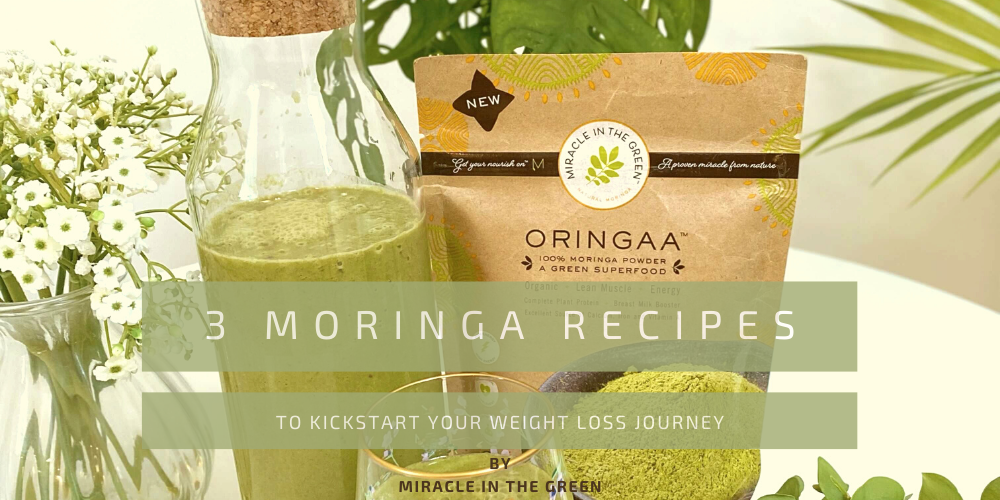 Miracle In The Green Recipes: 3 Moringa Recipes To Kickstart Your Weight Loss Journey
By Reena Enjambre | | green recipes, Healthy Eating, healthy recipes, Meals, moringa powder, Moringa Recipes, oringaa, Recipes, Salads, super food, weightloss
3 Moringa Recipes For Your 16:8 Intermittent Fasting
We have talked about Intermittent Fasting a lot in our previous blog posts. We are sure that all of us now know how teaching our body when to eat can help us with weight loss. However, is 16:8 Intermittent Fasting really as effective if we are not mindful with the food that we take during the eight hour window of our fasting? 
Moringa might be the key to staying healthy and to achieve that weight goal you've been aiming for so long. Moringa has a lot of benefits not only that moringa is compacted with a lot of vitamins and antioxidants, it is also beneficial for weight loss. 
In fact, an 8 week study was conducted before with 41 obese people on an identical diet and exercise regime, those taking 900 mg supplement containing moringa lost 10.6 pounds than those in the placebo group who only lost 4 pounds. 
Benefits Of Moringa Powder Includes:
Moringa Powder has swept people by storm in the beauty and healthy community with its vitamins and antioxidants components and other benefits, including weight loss. 
There might still be some doubts on your mind, can Moringa Powder really help you with weight loss? How can moringa powder help you lose weight? 
To answer your questions, moringa powder's natural compounds give your body the useful tools it needs to reach and maintain a healthy weight. Moringa powder isn't as a "get skinny overnight" cure, unlike what other health "supplements" wrongfully boast themselves as. Many weight loss drugs use popular ingredients banned by the FDA that cause harmful side effects such as:
Liver damage

Diarrhea

Long term kidney damage

High blood pressure

Rectal bleeding
Unlike weight loss pills, moringa powder naturally aids in weight loss. Clinical double-blind placebo-controlled studies have shown reliable results that combining a modest diet and light physical activity, moringa does help with weight loss. Moringa doesn't just talk the talk, it walks the walk. Look at the nutritional benefits to understand better what makes moringa so useful for the weight-conscious folk.
Moringa Powder has four benefits for Weight Loss in which we thoroughly tackled in one blogpost titled, The 4 Moringa Powder Weight Loss Benefits Facts. However, to sum it up, the four Moringa Powder Weight Loss Benefits are: 
It helps reduce food cravings

Keeps you going through the day

Supports and improve metabolism functions

Side steps sugar crashes
If you are doing a 16:8 Intermittent Fasting, you need energy to get through the day and perform your 100% still. You can't just skip and forget all your daytime responsibilities just because you're doing Intermittent Fasting. Hence, drinking moringa powder juice every morning to kickstart your day will be a great help during your fasting period. 
With all these facts and benefits laid out, you might be wondering how to incorporate Moringa into your meals, specifically during the 8 hour window of your 16:8 Intermittent Fasting Plan. Well, we've curated these amazing recipes for you to help you get started with your Moringa infused meals for your weight loss journey. Not going to lie, these recipes are mouth watering as it sounds. Are you ready to feel hungry? 
Moringa Recipes To Help You Get Started In Your Intermittent Fasting 8 hour window:
Moringa Roasted Turkey or (Chicken) with Leeks
What other good ways to start your Moringa meal plan than a scrumptious moringa recipes that has something to do with roasting meat? This recipe is also perfect for Thanksgiving! It is a food rich in protein and can also help with weight management and reduce the risk of heart disease. 
Are you ready to fill your cart with the ingredients? 
6 tablespoons unsalted butter, at room temperature
1 tablespoon Miracle In The Green Moringa Powder, sifted 
Salt and freshly ground black pepper
One 3- to 3 1/2-pound whole chicken
4 1/4 pounds large leeks (about 5)
2 tablespoons olive oil
6 cloves garlic, smashed flat
2 teaspoons finely chopped flat-leaf parsley
Instructions:
Step 1: Preheat the oven to 475 degrees F. Place the butter in a bowl and mash with a fork until smooth. Add the moringa and 1 teaspoon salt and stir until evenly combined.
Step 2: Slide your forefinger gently under the skin of the turkey/chicken and loosen it from the breasts and thighs. Using a spoon, stuff scoops of moringa butter underneath the skin of the breasts and thighs and press it so it spreads out evenly. Take any remaining moringa butter from the bowl (or that doesn't get underneath the skin), and rub it all over the outside of the turkey/chicken. Sprinkle the turkey/chicken generously with more salt and pepper.
Step 3: Peel off the outer layers of each leek until you have at least 8 inches of white and light green parts to each. Roughly chop enough tough green parts to make a handful, then trim off and discard the rest. Cut the white and light green leeks crosswise into 1-inch-thick rounds and rinse thoroughly to remove any dirt on them. Place the leek rounds and olive oil in a bowl, sprinkle with salt and pepper and toss gently to coat. Arrange the rounds on a rimmed baking sheet flat-side down so they form a "bed" for the turkey/chicken. Stuff the chopped greens inside the meat along with the garlic. Tie the legs together with kitchen twine and place the turkey/chicken on the bed of leeks.
Step 4: Bake the chicken for 20 minutes, then reduce the oven temperature to 400 degrees F and continue baking until the chicken is golden brown, the skin is crisp and an instant-read thermometer inserted into the thigh reads 160 degrees F, about 1 hour.
For turkey it will take around more than 3 hours, you may apply your regular process of cooking turkey.
Step 5: Remove the baking sheet from the oven and let the chicken/turkey rest for 10 minutes. Transfer it to a cutting board and cut into serving pieces. Scrape the leeks and pan juices into a bowl and toss together until evenly coated. Transfer the leeks to a serving platter and arrange the baked meat on top of the vegetables. Spoon any pan juices over the chicken/turkey and sprinkle with parsley.
Moringa Mushroom Soup
If you are not into heavy meals and just want a soup, well this one's for you. It's quick, easy, healthy and yummy at the same time. What other great facts about this recipe? Yes, it is infused with Moringa, too! Even just a tablespoon of moringa powder is enough to give you all its vitamins and benefits, specially if the moringa powder is all natural and 100% organic. 
Here are the ingredient list:
1/2 cup olive oil
1 pound shiitake mushrooms, stems removed, thinly sliced
4 thyme sprigs, stems removed
6 scallions (1 bunch), white and light green parts separated from dark green parts, thinly sliced Kosher salt and freshly ground black pepper
2 tablespoons moringa powder
1/4 cup dry white wine
8 cups low-sodium chicken stock
One 10-ounce package frozen spinach, thawed
1 cup heavy cream
Instructions:
Step 1: Pour the olive oil in a large saucepan over medium heat. Add the mushrooms, thyme and the white and light green parts of the scallions, then sprinkle with salt and pepper and cook, stirring, until the mushrooms caramelize and start sticking to the bottom of the pan, about 10 minutes. Scoop out about 1/2 cup mushrooms and transfer to paper towels to drain.
Step 2: Sprinkle the moringa powder over the mushrooms in the pan and cook, stirring, for 2 minutes. Pour in the wine and stir to scrape up any browned bits on the bottom of the pan. Pour in the chicken stock and spinach, bring to a simmer and cook, stirring occasionally, until reduced slightly, about 10 minutes.
Step 3: Remove the soup from the heat and, working in two batches, use a blender to puree the soup until very smooth, about 2 minutes for each batch. Return the pureed soup to the pot, stir in the cream and season with salt and pepper. 
Step 4: Ladle the soup into serving bowls and garnish with the reserved mushrooms and scallion greens.
Autumn Asian Ginger Dressing Moringa Salad
You just want salad for lunch, but don't know how to incorporate Moringa into it? Here's a moringa salad recipe for you to try on. Enjoy your moringa meal!
Ingredients for Moringa Dressing: 
1 inch pc ginger
3 tablespoons olive oil
1 tablespoon miso paste
1 tablespoon tamari
½ teaspoon sesame oil
¼ teaspoon moringa powder
2 tablespoons water
Ingredients for fried nut mix:
2 tablespoons vegetable oil
½ cup raw cashews
½ cup raw pistachios
3 cloves garlic, minced
2 tablespoons sesame seeds
Salt
Ingredients for the salad: 
1 cup brown jasmine rice or any rice of your choice and preference
1 can chickpeas, drained and rinsed
2 carrots, grated
1 celeriac roots, finely grated
1 pepper, sliced
A handful of tomatoes (this is optional)
Cilantro to garnish
Mint to garnish
Instructions to make the rice and chickpeas:
Step 1: In a medium pot, combine the 1 cup rice and 2 ¼ cups of water. Bring to a boil.
Step 2: Stir once, cover and reduce the heat to medium. 
Step 3: Simmer for 45 minutes 
Step 4: Remove the pot from the heat and let it sit for 5 to 10 minutes before serving
Step 5: Rinse and drain the chickpeas and pat dry with paper towel
Step 6: Coat the chickpeas lightly with olive oil, salt, and spices (paprika or cayenne pepper) and place into a preheated oven 425 F for 30 minutes. 
Instructions to make the fried nut mix: 
Step 1: Line a bowl with a paper towel
Step 2: In a large sauté pan, heat the olive oil over medium heat. Add nuts, garlic and a pinch of salt.
Step 3: Cook, stirring constantly, until the nuts are turning golden brown (about 3 to 5 minutes). Be careful not to burn the garlic.
Step 4: Transfer to the paper towel lined bowl 
Step 5: Season with salt to taste
Instructions for Moringa Ginger Dressing: 
Step 1: Combine all the ingredients into a food processor and blend until smooth.
Instructions to serve: 
Step 1: Divide the rice into 3 to 4 bowls. Top it with chickpeas, carrots, celeriac roots, tomatoes, fresh herbs and, lastly, fried nuts. 
Step 2: Drizzle the Moringa Ginger Dressing over and serve with the dressing on the side. 
Love + miracles,