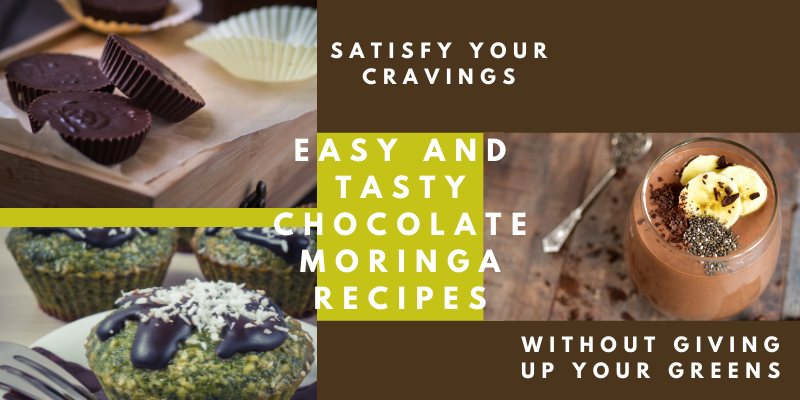 Miracle In The Green Recipes: Easy Chocolate Moringa Recipes That'll Satisfy Your Sweet Tooth
By Reena Enjambre |
Easy and Tasty Chocolate Moringa Recipes That'll Satisfy Your Sweet Tooth
We know Chocolate Day had passed, but we are still in chocolate rush! Chocolate is just something we couldn't resist, but for those who are on a diet, we know it is hard to eat chocolate infused food without actually feeling guilty. Don't worry, we got you. Here are some recipes for those who are craving for chocolates, but don't want to sacrifice their greens and diet. 
You're up for a treat, are you ready? 
Moringa Bites
Ingredients:
1/3 cup almond butter

1 cup shredded coconut

2 tablespoons Chia Seeds

2 tablespoons Moringa Powder

2 teaspoons maple syrup

Cacao Powder (optional) 
Instructions:
Pulse all ingredients together in a food processor until smooth. 

Roll into balls. 

You can either leave them plain or roll them into cocoa powder! Store in the fridge until ready to eat.
Chocolate Green Nut Butter Cups
Ingredients:
80g dark chocolate (I used 80% cacao)

2 1/2 tablespoons cashew butter

3 teaspoon honey

1/8 teaspoon fine sea salt

1 teaspoon moringa powder

Handful of goji berries for decoration (optional)
Instructions: 
 Line a mini muffin tin with small cupcake liners

Melt the chocolate over a low heat in a saucepan and pour about 1 tablespoon into the bottom of each cupcake liner, to thinly cover the bottom. Tilt so the chocolate goes up the sides slightly. Make sure you only use half the chocolate mixture for this step. Place these in the freezer for about 10 minutes to set

Meanwhile, make the filling. Add the cashew butter, maple syrup, honey, sea salt and moringa powder to a small bowl and whisk well until fully combined

Remove from the freezer and place about 1 teaspoon of the nut butter filling over the chocolate in each liner

Pour enough of the chocolate mixture over the filling to cover it completely. Sprinkle with a couple of goji berries

Return to the freezer for at least 15 minutes until completely hardened (about 30 minutes)

Store in a sealed container in the fridge for up to 2 weeks, or freezer for much longer.
Pumpkin Seed Moringa Cupcakes
Ingredients:
Cupcakes
1/2 cup coconut flour

1/2 cup tapioca flour

1/2 cup pumpkin seeds

2 tsp 

moringa powder

1/2 tsp baking soda

1/4 tsp salt

4 eggs, room temperature

1/2 cup coconut oil, plus more for greasing muffin molds

1/2 cup honey
Frosting
1/2 cup palm shortening, at room temperature

2 tbsps. honey

1/2 tsp vanilla extract

Melted chocolate and pumpkin seeds, for topping
 Instructions:
Preheat the oven to 375°F. Grease a silicone muffin pan with coconut oil, or line a muffin tin with parchment liners.

Pulse the coconut flour, tapioca flour, pumpkin seeds, moringa powder, baking soda, and salt in a food processor until the pumpkin seeds are ground into a fine meal.

Add the eggs, oil, honey and puree until smooth.

Spoon into the cups of the silicone mold or muffin tin, then place in the preheated oven. Reduce the heat to 350° F, and bake for 20-25 minutes or until a tester inserted comes out clean, then set aside to cool.

To make the frosting, whip the shortening, honey, and vanilla until smooth. Fit a pastry bag with a coupler and tip (I used a Wilton No. 233 Multi-Opening Decorating Tip), then load the frosting into the pastry bag. Once the cupcakes have cooled, pipe the frosting on top in the design of your choice.
Chocolate Moringa Smoothie
Ingredients:
1 cup water or non-dairy milk

1 small yellow squash (~110g)

3/4 cup frozen strawberries

3 tbsp cocoa powder

1.5 scoops

Protein Powder

1 tsp moringa powder

2 tbsps. Honey
Instructions:
Combine all ingredients in a blender, and blend until smooth.
Chocolate-Peanut Butter Fudge With Moringa
Ingredients: 
2 tsp of moringa green superleaf powder

2 tbsp of super-cacao powder

1 cup of

peanut butter

4 tbsp of

pure maple syrup

1/3 cup of

melted coconut oil
Instructions: 
Melt your coconut oil and add to a mixing bowl with all the other ingredients.

Stir until a very smooth paste!

Pour into a little baking tray lined with non-stick paper.

Place in the freezer for 30 minutes to set. Slice into little squares and enjoy!
Love + miracles,