Women Empowerment
How a Cancer Diagnosis Led to a Social Enterprise Movement
In 2010, Ify was diagnosed with cancer. She was in her final year of law school and the mother to two children at the time, the situation was devastating. Ify was exhausted. It was then, Ify received a care package from her parents in Nigeria. Along with other treats from home was Moringa. Moringa is a plant also called The Miracle Tree. Moringa is loaded with antioxidants and beneficial nutrients. Ify began to take it and to incorporate it into her daily schedule. Ify began by changing her diet, she drank several glasses of Moringa a day and even began making her own Moringa based skincare. Slowly Ify began to recover and to have more energy. Moringa changed Ify's life. Today, Ify is giving back and empowering women with this miracle tree. She began a not-for-profit, Project Little Miracles.
Project Little Miracles
Project Little Miracles, founded by Miracle in the Green's Ify Nwobi, sprung to life after her personal success with her business. The goal for Project Little Miracles is to lift up women all across the globe by providing access to education, advocacy programs, and services dedicated to helping women. Continue to read on to learn more about Project Little Miracle's advancements for women, or go directly to their website to learn more.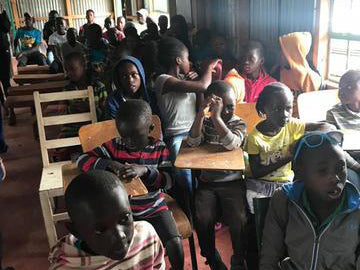 PROJECT LITTLE MIRACLES
Project Little Miracles newest endeavors was providing women in Nigeria business grants so that they too, could start their own journeys in entrepreneurship and revive their local economy. Some who already had business could not continue because of broken equipment which they could not afford to fix thus drying up cash flow. Project Little Miracles gifted them small grants to help them resuscitate their businesses and begin to provide for their children once again. Another mission lead by Miracle in the Green directly benefits an orphanage in Kenya.
WOMEN EMPOWERMENT
The orphanage was founded by a woman named Cherish, it began with one child Cherish found abandoned in the streets of Nairobi who was HIV+. She took him in, nurtured him back to health and raised him. Cherish has continued to care for, nurture and raise 40 more children. Many of the kids in Cherish's care were found abandoned and abused by their parents. Through Project Little Miracles, these children received gifts for Christmas as well as school supplies. Ify is far from finished, Miracle in the Green and Project Little Miracles has their hearts on the next mission in South Africa.