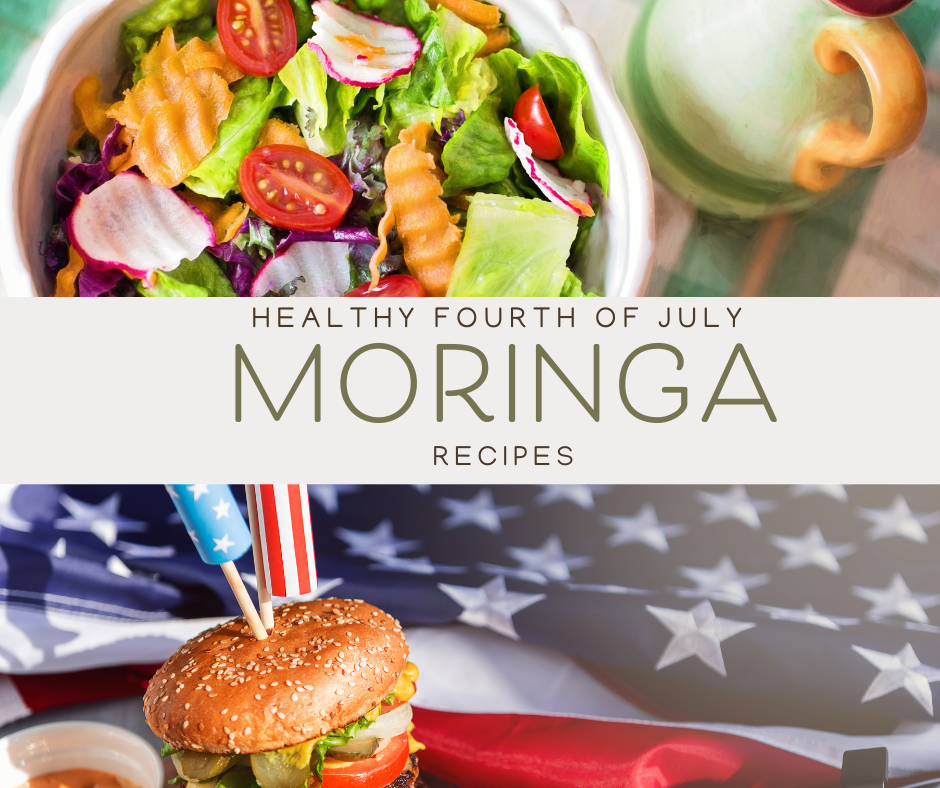 Celebrate the spirit of independence on 4th of July with these healthy Moringa recipes!

Moringa Oleifera, also known as the Miracle tree, is one of the most nutrient-dense plants on the planet. It is super rich in vitamins, minerals, and phytochemicals. Adding moringa to your diet can do wonders to your health as it supplies your body with the needed nutrients.

Ready to spice up your ordinary dish to something healthier this Independence Day? Check these recipes out.
Moringa Burgers
Since Moringa is rich in Vitamin C, A, E and other antioxidants, it will transform your ordinary burger into a healthy dish for the whole family. More so, kids won't be able to notice that you add a healthy powder. 

Ingredients: 
2 Tbsp moringa powder
1 Green pepper, finely chopped 
1 can of black beans

1 Carrot grated
1/2 garlic powder or finely chopped garlic

1 Tbsp Olive oil

2 Tbsp corn starch

1/2 Tsp turmeric powder

1/2 Tsp salt and pepper
3 Tbsp water
1 Tbsp lemon juice
3 Tbsp plain flour or potato flour
1/2 Tsp chili powder (optional)

METHOD:

1. In a pan, add  olive oil and add the black beans. Stir for few minutes until black beans begin to soften, then mash black beans until  it become like a paste texture. Set aside in a bowl.

2. Throw in chopped carrot and pepper, add the black bean mixture

3. In a separate bowl, add Moringa powder and other remaining ingredients except for  breadcrumbs and flour.  Then, mix until all lumps are removed. Add chopped vegetables and combine with the potato or plain flour.

4. Mold your burger mixture into circles and coat entirely in bread crumbs. Place on the greased tray and leave in the preheated oven for 15 minutes flipping mid way.
Moringa Marinated Barbeque 
Want to level up your favorite with a healthy twist? Then try this Moringa marinated barbeque, perfect for the whole fam!
Ingredients: 
2 Tbsp Moringa Powder
1 tsp coriander seeds
1 cup plain whole-milk yogurt
Pinch saffron
Salt and Freshly Ground Pepper
lemon juice
1 teaspoon black pepper
3-4 tablespoons olive oil
1 teaspoon honey
Instructions:
For yogurt dip:  Mix yogurt and saffron. Then, add ½ teaspoon of salt , pepper, moringa powder, and lemon juice. Refrigerate for few hours. 

 Place them on the grill and cook them on both sides for 2-3 minutes each.

Garnish with coriander seeds, moringa powder, and olive oil 
Love + miracles,