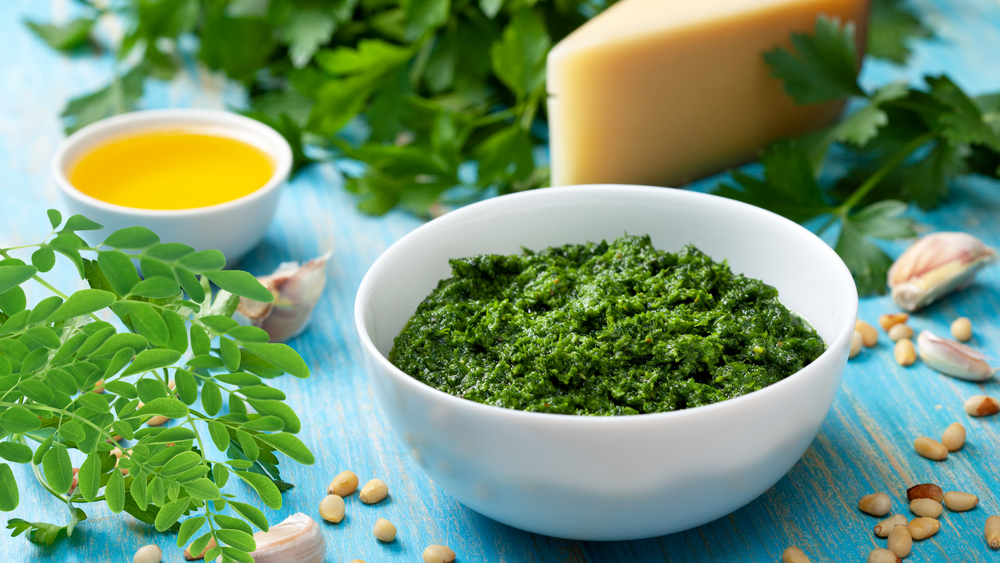 Alternative Moringa Pesto
By shop Miracle in the Green Admin | | @miracleinthegreen, BOOST IMMUNE SYSTEM, energy, energy boosters, family health, fitness, green recipes, HEALTH, healthy recipes, moringa, moringa powder, Moringa Recipes, Nutrition, oringaa, quick recipes, Recipes, superfoods, supergreens, wellness
Let's start with a little moringa magic, shall we?
The research behind this delicate-yet-hearty little leaf is stunning. No wonder it's the prodigal son of superfoods:
Moringa

leaves are full of vitamin C, calcium, potassium, amino acids

The powder smells like a savory, almost peppery version of matcha powder

Stabilizes blood sugar

Contains substances called isothiocyanates, which boosts human resistance to cancer
To make the pesto, combine basil, moringa powder, garlic, pine nuts and parmesan in the bowl of a food processor; season with salt and pepper, to taste. With the motor running, add olive oil in a slow stream until emulsified; set aside.
Store in an airtight container in the refrigerator for up to 1 week.
Hint: If you're using moringa powder as a swap or an addition to your holiday recipes, you should know that not all moringa products are created alike. You want to look for a formulation, such as Miracle in the Green's Oringaa, which is cruelty-free, sustainably sourced, and is free of fillers, dyes, and additives.
So how do you incorporate moringa into your holiday recipes? If you don't want to go for the leaves (or they're simply not in season where you live), you can easily use moringa powder for twice the potency and less cooking time.
Use this recipe for moringa pesto for some fantastic pasta. All you need is one bunch of fresh basil, a large handful of spinach, a large handful of washed and chopped kale, unsalted almonds that are soaked overnight, and, you got it, that peppery dash of moringa powder.
Love + miracles,