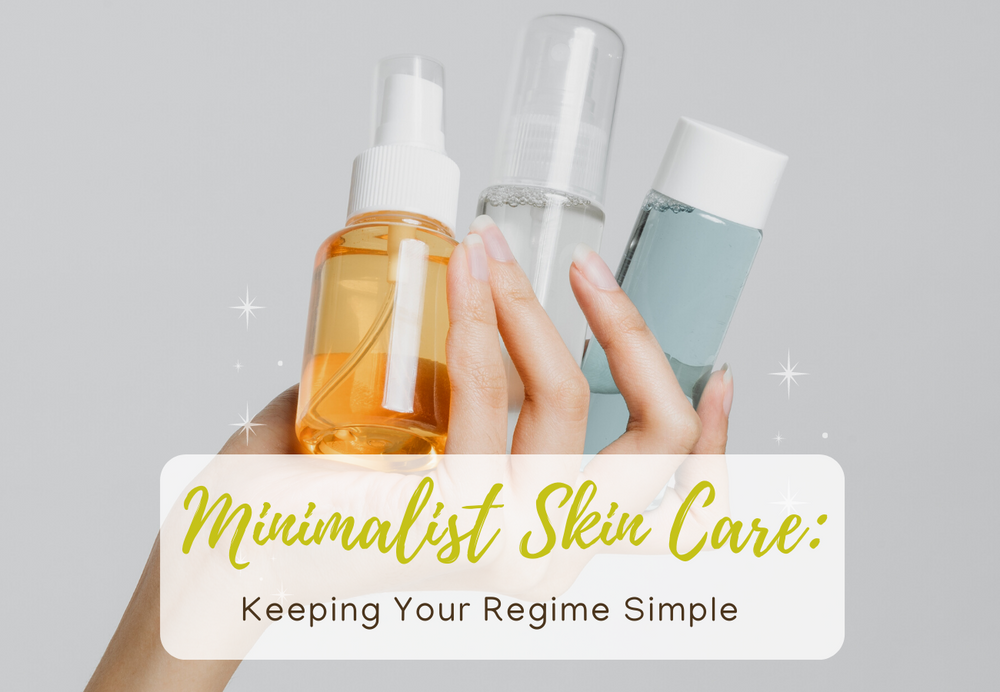 When it comes to skincare and many things in life, I realized that more doesn't necessarily and always means better.

I've been seeing a lot of random videos over social media where influencers put so much and different skincare products on their face. Literally, from one skincare over another. At first, seeing those videos made me want to try it since a lot of us are actually hoping to have better skin. And so do I.

And after doing my research, it turns out that putting overloaded skincare products on your face won't do your skin a favor.

What we actually need are products that will do their work —skincare items that will really deliver results. It's not about how many skincare routines but a product that will give us the desired results without going overboard.
Why try minimalist skincare?
Skincare experts that using dime and overloaded products may lead to clogging of your skin. And what's even worse is that it may even damage your skin barrier.

That's why we shouldn't need to break the bank to have healthier and naturally glowing skin. We can always glow with a simple yet effective minimalist type of skincare.

With minimalist skincare, it's like going back to the essentials. It's just like how a minimalist life teaches us. Ditch what's no longer needed and focus on the things you need. As simple as that.

Aside from saving your skin from the damage of overloading and overwhelming it with unnecessary, minimalist skincare will also help you in plenty of ways. Here are the other benefits.

1. It allows you to spend less and save more

Because you only need to buy what is necessary, this skincare trend will help you lessen your expenses. Fewer expenses are equivalent to more savings.

2. You can help the planet by not contributing to more waste production. 
It even lessens carbon dioxide production.

3. Help reduce and prevent skin irritation

Oftentimes we thought we're just allergic to some skincare ingredients but it can also be because we're overloading our skin too much. And yes, there are plenty of people with a lot of allergies. However, this isn't the case for everyone.

Overloading your skin with so many skincare products might lead to redness and skin irritation which will be a lot more expensive to treat anyway.

4. Your skin doesn't need a lot. There are only products you need to better skin.

I learned that our skin has its way of healing, exfoliating, and moisturizing process. Sometimes putting too much will just ruin the natural process.

Again, from what I have learned is that we only need products that will drive results. Not to mention, products that are natural and will help our natural beauty shine on.

Practicing skincare minimalism

With so many products on the market, it's so hard to choose which products will really do the work. More so, minimalistic skincare is about making thoughtful choices.

So to get started, with only the essential skincare routine we have to retain and the skincare product we have to use, these are the product we shouldn't ditch.

1. Facial Cleanser
Our Moringa Facial Cleanser is so gentle that it washes impurities without stripping your skin. Moringa is loaded with Vitamin C, A, and E which is perfect for the skin. This will make your skin glow because of the goodness of Moringa, Aloe Vera, and Honey.


2. Moisturizer

Moisturizing your skin is always next to cleansing. For that glowy, healthy, and dewy look — we recommend our Moringa Oil. It won't only be beneficial for your face, but your hair as well as your body.

And if you want deep hydration, our Moringa Face and Body Butter is a must-try.

Both of these products are anti-aging because of Moringa's rich vitamin and mineral content.

3. Sunscreen

Don't forget to use sunscreen to protect your skin from premature aging and the harmful effects of the sun.




Love + miracles,