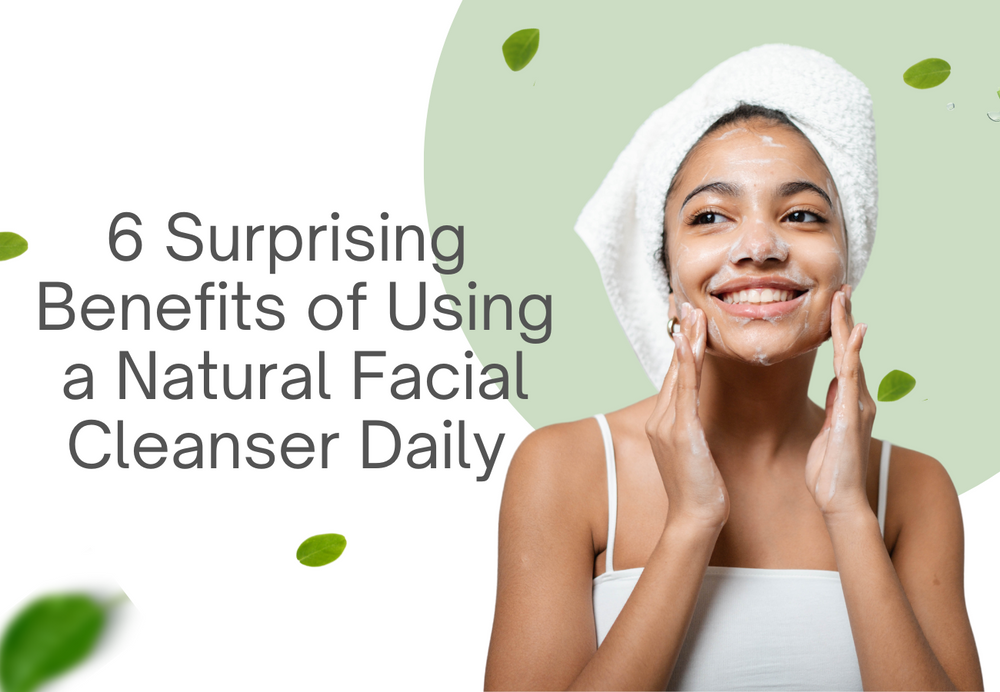 Cleansing is one of the most essential step in a skincare regimen. In fact, skincare won't be complete without cleansing — and facial cleanser.

Using a cleanser can help remove dirt, dead skin cells, sebum, and other skin impurities. It also preps your skin as it gives room for your pores to breathe — this process makes other skincare products, like toners and serums to be absorbed effectively.

Since cleanser is a must in skincare, it's even more important to find an appropriate facial wash for your skin type. Unfortunately, there's a wide array of choices on the market which can are harsh to your skin due to chemical ingredients. That's why you have to pick a good face wash which will help remove impurities, but won't strip your skin's natural oils.
If you haven't found the right facial cleanser for you, maybe it's about time to switch to natural facial cleansers.
Benefits of using a natural facial cleanser
When choosing a facial cleanser, one of the best pieces of advice I heard is to always look for the best ingredient possible. Of course, a cleanser should serve its purpose of which eliminating all the unwanted impurities in our skin, but it should also be formulated using the best ingredients.

And one of the best ingredients are the ones that are most natural and organic — without the potential health threat due to chemicals. Simply, natural is something that comes from nature.

In fact, what's so amazing about nature is that it already provided the best ingredients there are when it comes to almost every concern — more importantly in skincare. Let's dig deeper into the many benefits of using a natural and organic facial cleanser.
1. Free of harsh chemicals and pesticides 
What you won't see in most natural skincare is that it's free from parabens, sulfate, triclosan, talc, fragrance, lead, diethanolamine, and other toxic chemical ingredients which is harmful to your skin and overall health in the long run.

Well, we can't really choose chemical-free ingredient for skincare even in natural and organic skincare, still harsh chemical is a different topic. What we want to stay away from are harsh and toxic chemical ingredients as well as pesticides that can harm us.

Well, some skincare ingredients which contain harsh ingredients may give you the instant visible results which you've been longing for. But it's only good at first — in the long run, this skincare might damage, worsen and even weaken your skin with prolonged use.
2. Natural skin care products are better for the environment.
If you're environmental-friendly or someone who cares about our planet and the next generation, then there's no better way than to switch to natural or organic skincare or facial cleanser to be exact.  A natural cleanser like Moringa Facial cleanser can greatly reduce environmental impact. 
3. Mild and gentle on the skin
What natural facial wash offers is that it has no harsh chemicals, synthetic ingredients, artificial fragrances, and pesticides, so it has no to fewer side effects, unless you're allergic to it.

Natural skincare only uses ingredients from nature — which are mild and gentle on the skin. These cleansers can help remove impurities without stripping your skin's natural oil.
4. Better for skin and health in the long period of time
Mind you, there are tons of facial cleansers and other skincare products which contain synthetic ingredients and other harmful chemicals just as we mentioned earlier. These synthetic ingredients can cause numerous skin conditions like skin allergy, premature aging, and eczema in the long run.

Skincare problems might arise after a period of long exposure to these harsh chemicals.
And remember our skin is the largest organ in the body, what we put on it can be readily absorbed by the skin. For this reason, we have to be more careful of what we put on it.

Give your skin the best ingredients that won't cause you any harm in the long run.
5. Natural skincare are effective and safe
Natural and/or organic skin products will make sure that your skin absorbs natural ingredients that won't worsen, contaminate, and won't do you any harm in the long run — making it safe and effective not just for your skin but also to your body as well. 
6. Rich in essential nutrients
Natural skincare ingredients and natural facial cleanser provides
the most abundant essential nutrients our skin needs, something you can't find in synthetic skincare ingredients.

Furthermore, natural skincare will help you achieve that healthy glowing skin due to the abundant essential vitamins, minerals, proteins, and essential fatty acids.

Wash your face with the best ingredient nature provides. Moringa for example.

"Moringa is a superfood of the highest order, outperforming its competition in nutritional value and versatility. The benefits of Moringa powder can help make a healthy impact on your day-to-day life by boosting your intake of antioxidants, vitamin A, vitamin C, vitamin B2, vitamin b3, iron, amino acids, calcium, and magnesium. Moringa is seen as the Miracle Plant because it yields such a high vitamin-rich content that no other plant or vegetable can produce in one serving" - Miracle in the Green

With all the nutrients Moringa can provide, there's no wonder that this cleanser or whatever skincare ingredient made out of this ingredient is the best there is to check out.
Try our Moringa Facial Cleanser.
Love + miracles,