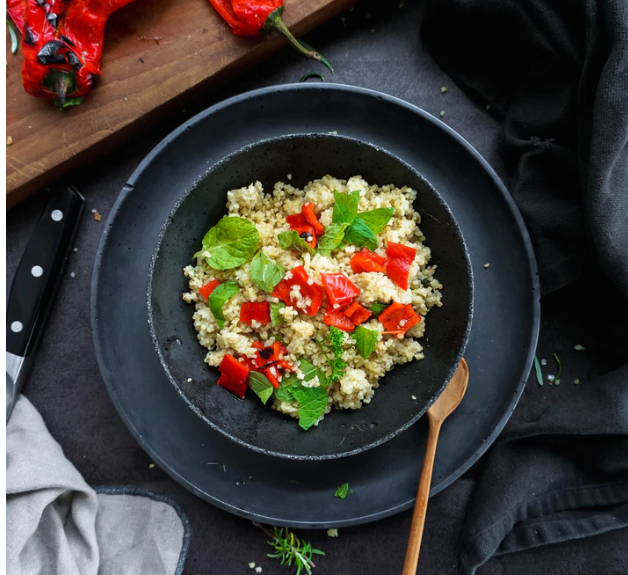 QUINOA pronounced KEEN-Wah has quickly become a staple in my cooking. I love that it is quick and easy to prepare, has outstanding nutritional value and is allergy-free. Since it cooks through in less than 20 minutes, it is a useful grain substitute in just about any recipe. A single serving is high in healthy fats, fiber protein, iron, magnesium phosphorus, and riboflavin. A good gluten-free source of protein, iron, and fiber, quinoa is a quick and flavorful way to get in a serving of whole grains. About the size of pellets of couscous, quinoa cooks in about 20 minutes. Quinoa can be bitter so before cooking give it a good rinse.
Here's a simple recipe
Ingredients
4 medium carrots, chopped
8 spears fresh asparagus, chopped
1 teaspoon fresh thyme, leaves removed from stem


Black pepper to taste
Directions
Place water in a small covered saucepan. Bring to a boil. Add quinoa and stir. Reduce heat to a simmer and replace lid. Simmer for 15-20 minutes, or until water is absorbed.

Steam the vegetables for 3-4 minutes, either in the microwave or in a small covered pot with 1/2 inch water. Place thyme and moringa powder in a small bowl, then whisk in the oil. Once the quinoa is cooked, fluff it with a fork.

Place 3/4 cup of quinoa on each plate. Arrange a quarter of the vegetables over the quinoa and YUM..!!
You can also eat Quinoa as you would cereal by just adding almond milk to the cooked quinoa and honey to taste….YUM!! Enjoy!!!
Love + miracles,