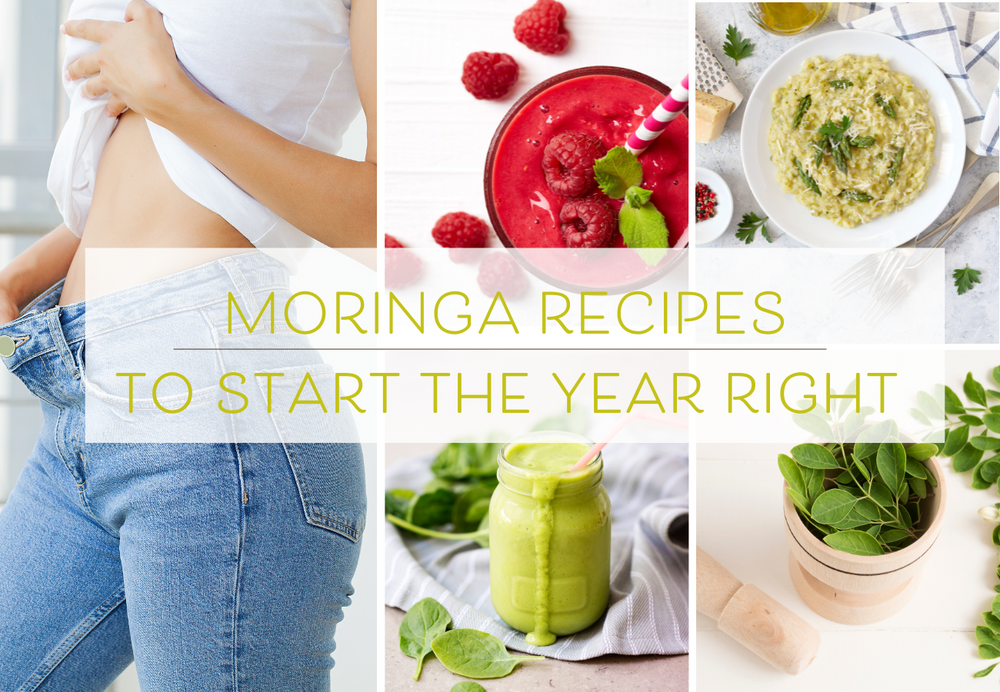 New year prompts a new beginning. And what a good way to start the year by eating healthy. 
So, if you're looking to kickstart your year off right, why not try these healthy moringa recipes into your eating routine? Incorporating Moringa in any dish is a sure way to give your health a boost. Plus, you can never go wrong in adding it to any dish. 
Try these healthy yet simple Moringa recipes. Enjoy!
Raspberry Coconut Moringa Smoothie
Time to get the blender out for a glass of cool, creamy yet healthy goodness with this smoothie, perfect for any time of the day. 
Ingredients
1/2 cups of coconut milk or low-fat coconut-flavored yogurt
Moringa powder
2 cups, frozen raspberries

Toasted coconut flakes for serving
Directions
1. Blend together raspberry, coconut milk or coconut-flavored yogurt 
2. Sprinkle Moringa powder on top 
3. Serve topped with toasted coconut flakes and raspberries.
Alfredo Pasta with Moringa powder
If you are thinking of what can make for lunch or dinner, this Moringa pasta recipe is very easy to make. Moreover, it's such a healthy dish!
Ingredients
12

 

ounces

 fettuccini or spaghetti pasta

salt 

pepper

2

 

Tbsp olive oil

4

 

cloves

 minced garlic 

1

 

cup

 

cooking cream 

¼

 

cup

 

grated parmesan cheese 

1/3 cup of Moringa powder 

250

 

grams

 cut chicken or ham cut 
Directions 
For sauce: 
Heat a large saute pan over medium heat.

 Add a tablespoon olive oil and cook chicken/ ham/ bacon bacon until brown and crispy.

Once cooked, set aside the chicken.

Remove excess oil from the pan and leave at least 2 tablespoons of oil then 

add garlic and cook brown. Add chili pepper flakes, cream and the moringa powder and ¼ cup water or pasta water. 

Cook until sauce starts to bubble then add parmesan cheese. 

Season with salt and ground black pepper then add the cooked pasta over heat. 

Sprinkle grated parmesan cheese and remaining Moringa powder on top 

then add the cooked chicken or bacon. Bon appetit!
Moringa Ice cream 
Craving for ice cream? Don't yourself back from devouring this nutritious guilt-free vegan ice cream. 
Ingredients
For Ice cream mixture 
2-3 tbsp Moringa powder 

3 cups, Full Cream Coconut milk

1/2 cups of organic Cocoa Chips or mint chocolate

1/2 cup maple syrup or organic sweetener
Directions
Preparation of the Ice Cream Mixture
Throw all the ingredients to a high-speed blender and mix until smooth. Adjust sweetness according to your preference, you may also use full cream milk if you're not into coconut milk

Pour the mixture into a baking dish
Garnishing
Sprinkle vegan chocolate or cocoa chips on the cream mixture before putting into the refrigerator

Refrigerate the mixture overnight or depending on your preference for the cream to set. 
Love + miracles,