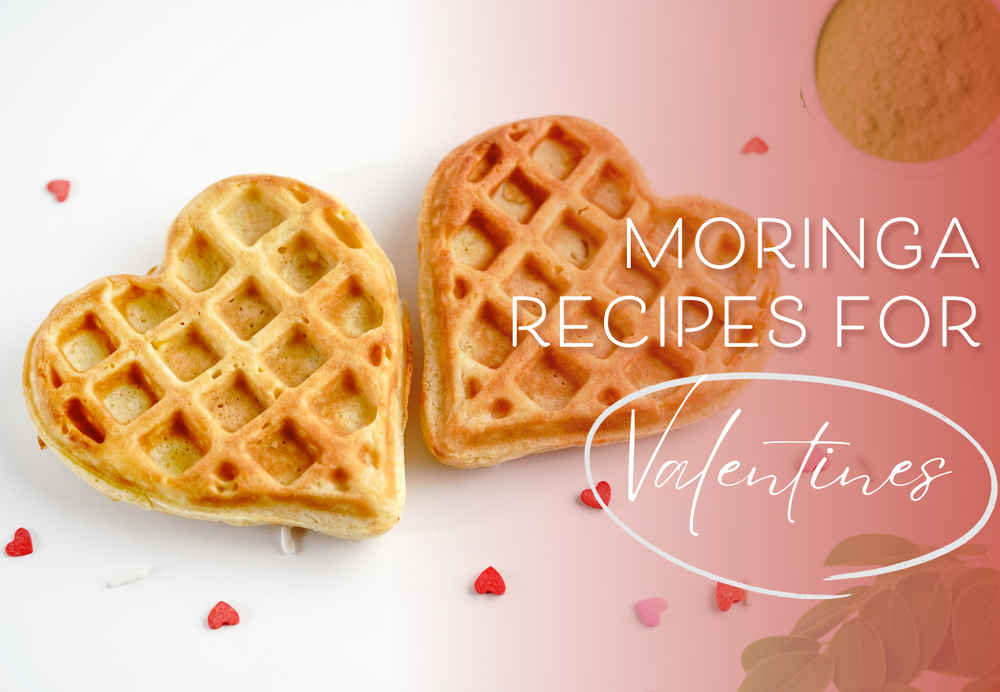 Spoil your loved ones with food that isn't just tasty but healthy as well this Valentine's Day.

And there's nothing like Moringa to spice up the special event. This miracle tree is known for its superfood properties and countless health benefits, but more than these it can also be very beneficial for men's and women's sexual health.

Moringa is one of the most nutrient-dense plants on this planet. It is loaded with nutrients and minerals best for all gender to consume. It's rich in vitamins C, A, E, B1, B2, B3, and B6, calcium, Folic acid, potassium, amino acids, and iron.

Best of the best? You can just simply sprinkle Moringa powder on any dish which can level up the dish to a much healthier version.

So, let's get started with these Moringa dishes, especially for Valentines day.
Moringa Waffle
True enough, you'll never run out of options with Moringa powder. You can even use it for your favorite waffle. 
Ingredients
1/4 cup coconut oil
1 1/4 cup almond milk
1/2 cup rolled oats
2 tsp vanilla extract
1 3/4 cups of waffle mix 
1/2 cup of coconut sugar or maple syrup
2 tsp

 

Moringa powder
1.5 tsp baking powder
Instructions:
Place all the dry ingredients in a large bowl
Add the wet ingredients and combine well.
Pour into pre-heated waffle iron
Topped with berries or cut fruits, serve and enjoy.
Coconut Curry Chicken
Ingredients: 
1/2 to 3/4 kg chicken breast cut into 1-inch chunks

 salt and pepper

1 28-ounce can crushed tomatoes
1 tbsp, moringa powder
3 tbsp. olive oil
1 large onion, chopped
4 pressed garlic
1 2-inch piece fresh ginger, peeled and coarsely grated
1 tbsp. cumin powder, garam masala, or curry powder
3/4 cup, coconut milk
cumin seed 
curry leaves
1/2  butter
Instructions:
Heat oil in a pan , put black cumin seeds and curry leaves . Add sliced onions , sauté until light brown in low heat. Then add ginger and garlic paste and wait until light brown.
After sautéing for 2 minutes, you may add powdered spices. Make sure to sauté' it  in low heat
Add tomato puree , wait until it boils. Pour in washed cut chicken, mix well  and cover until chicken turns tender in low heat.
Add curry powder, mix and cook for 2-3 mins more . Add 1/2 cup of water  and sprinkle moringa powder on top, let the sauce boil in medium heat for 2 mins.
Serve and enjoy!
Love + miracles,