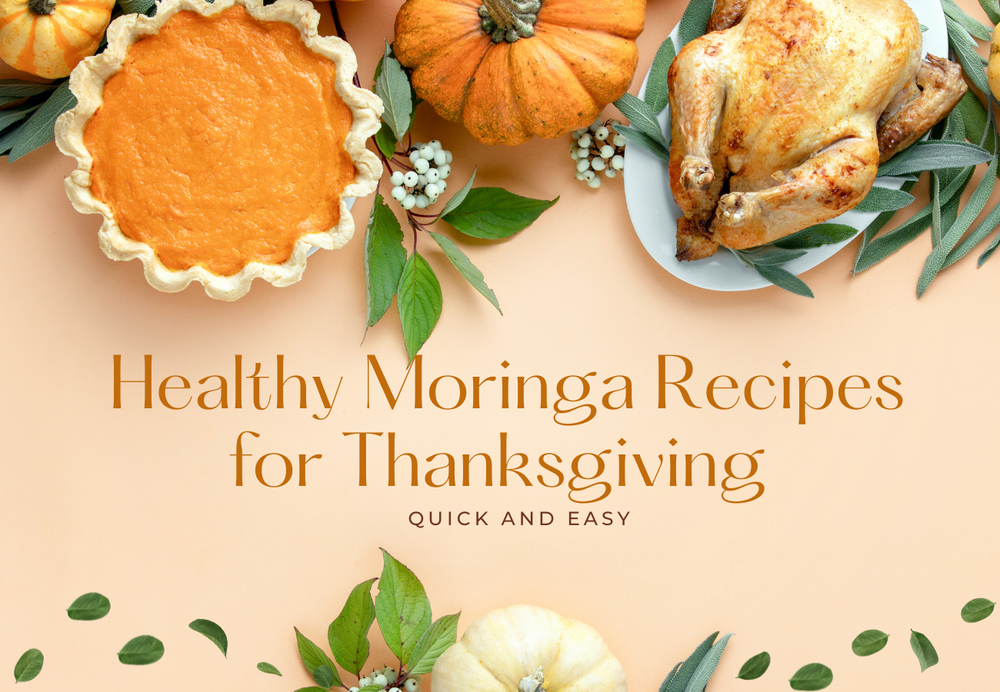 Thanksgiving is only a week away, which means that it's definitely time to start planning out those healthy Thanksgiving recipes for the perfect family or Friendsgiving meal if you haven't already. The holiday season kicks off all of the treats and feasts you could want and we're not mad about it! There are TONS of healthy Thanksgiving recipes out there that your dinner guests with be grateful to gobble up. Whether you have some allergies or are just looking to substitute a few of the traditional unhealthy sides, here are 17 healthy Thanksgiving dishes your guests are sure to love!
Moringa and Squash Soup
1 medium onion, chopped
Salt and freshly ground black pepper
Instructions:
Cut squash into small pieces . Melt butter in a large pot. Then add sliced onion, cook until translucent. 
Add the chunks of squash and chicken stock. Cook for 15-20 minutes and bring to a simmer until squash is tender. 
Place the cooked squash in a blender and puree.
Return the squash puree . Stir and season with nutmeg, Moringa powder,  salt, and pepper. Serve while hot. Enjoy!
Creamy Garlic Mashed Potatoes with Moringa
6 ounces grated Parmesan
Moringa powder
Instructions:
Peel and dice potatoes into small pieces. Place the potatoes in a large saucepan, add the salt, and water.
Simmer over medium-high heat and then reduce heat to maintain boiling point. Cook until potatoes are so soft.
Place the half-and-half and add the garlic in a medium saucepan over medium heat, wait until it's simmer. Remove from the heat and set aside. 
When the potatoes are already falling a part, turn fire off and drain off the water.
Mash, then add the garlic-cream mixture, Parmesan and moringa powder; stir to combine.
Let stand for 5 minutes or so, so that mixture thickens and then serve.
Sauteed Carrots with Moringa 
Ingredients:
 Moringa powder
2 pounds carrots
2 tablespoons unsalted butter
Instructions:
Peel the carrots and cut them diagonally. Make at least 6 cups of carrots.
Place the carrots, add around one third cup  of water, salt, and pepper in a large in the sauté pan and bring to a boil.
Cover the pan and wait for it to cook over medium-low heat for about 7 to 8 minutes. Make sure the carrots are fully- cooked through.
Add the butter and sauté for a minute, mix until the water evaporates and till the carrots are coated with butter.
Remove from the heat, sprinkle it with moringa, salt and pepper and serve.
Love + miracles,