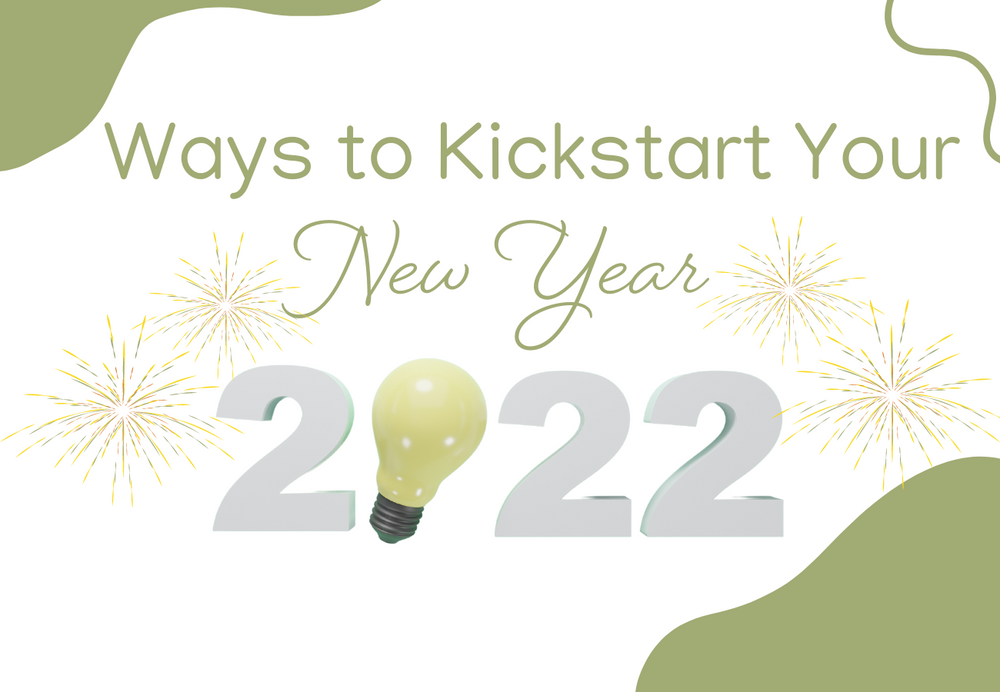 2021 is finally drawing to a close and we're now excited to say hello to 2022. 
As we cross over to a new year, it's a great opportunity for a restart and to refocus. Indeed, it's a new beginning. A new chance for all of us. It's a new blank page waiting for us to fill.  Aside from that, New Year is also a chance for us to look back and evaluate our previous year. That way, we can start the coming year better.
And there's no better time to kickstart our New Year than with a better mindset, lifestyle, habits, and overall health. 
To dive into the better and healthier person you aim to be this 2022, here are five tips to kickstart your new year.
1.Have a new mindset 
 Like most of us, we set our year with a New Years' resolution. However, most of us fail to follow and keep up with our own set of yearly promises. 
This is because New Year's resolution doesn't work — what we need is to have a better mindset. A mental reset. It's not how many goals or resolutions we set each year, but how we approach the goal. Of course, everything starts in the mind. And we need to be intentional in achieving our goal.
Without cultivating our mindset, we're setting up our goals for failure.
So, what mindset do you have to get rid of or a new approach to incorporate for you to have a better year?
2. Stop doing and start doing something
Habits are crucial and tricky. It takes daily time to practice. This includes all small good habits that you have to start doing and bad habits that you have to stop doing for a better year. 
Here are a few things we need to start doing: 
Practice being grateful 

Making small good changes 

Connect more to your loved ones and friends

Manage stress 

Use the stairs 

Begin believing in your capacity 

Reward yourself 

Be optimistic 

Invest in self-development 

Stay active 

Eat healthily

Practice Mindfulness

Begin connecting to nature 
What we need to stop doing: 
Stop overthinking 

Stop unnecessary spending 

Avoid sitting for long periods of hours 

Stop saving only, start investing.

Avoid spending so much time on social media 

Stop eating unhealthy food 
Do you have more on the list? Put it in your journal and keep checking it every day.
3. Pursue what you've been putting off to do
The previous year has been tough for most of us. There are dreams and plans we've put off for the meantime due to the pandemic. 
If our plans and dreams are achievable next year, then maybe it's time to give it a go. This 2022 is another chance for us to do what we've been meaning to do. Whether it's about traveling, going on a diet, visiting your loved ones, taking a new degree, or even going for a walk daily — do whatever it is as long as it will benefit your mind and body. 
4.Eat healthier and sleep longer 
There's no better way to start your year right than having healthier food choices and attaining that complete rest. As simple as eating more green instead of high fat and sugary food can go a long way. It may sound a cliché but again getting enough sleep is as important as exercise and diet. 
5. Add Moringa to your daily routine 
If you haven't tried adding Moringa to your daily diet and health plan, then this is the best time. You don't need to wait for 2022 to arrive, you can start now to achieve a  healthier body and mind as well as younger-looking skin. 
Based on studies, pure Moringa Vegetable Powder contains: 
25 times more iron than spinach 

10 times more vitamin A than carrot

9 times more protein than yogurt

17 times extra calcium compares to milk

7 times added vitamin C than oranges

15 times more potassium than bananas
It's like eating all of the needed nutrients you need in just one tablespoon of moringa daily.
On top of that, after all the Holidays binge-eating, we all need to go for a Detox. And Moringa serves as a natural detox your body needs. 
Check out our Oringga All Natural Moringa Powder to see how you can take your health and wellness goals to the next level.
What are your 2022 health goals and lifestyle? Share with us below. 
Love + miracles,