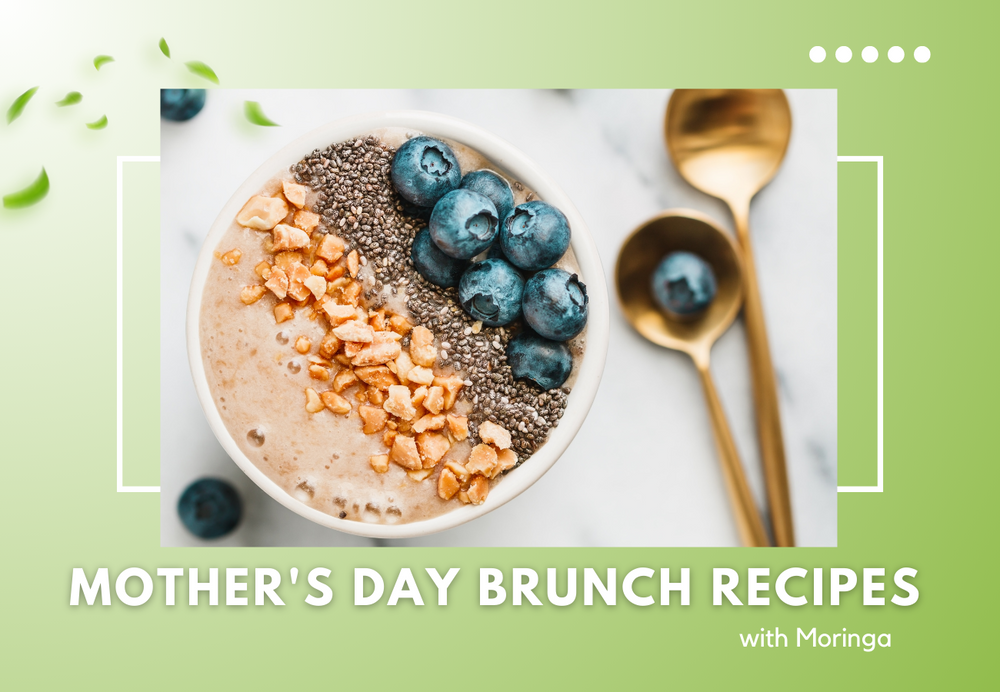 There's no doubt that mom's food is the best — but this Mother's Day, it's time to pay her back by cooking something healthy, homemade, and delicious.  
Though it's nice to dine out, still homemade meal is a lot healthier, especially when you use healthy ingredients like Moringa. 
Mothers can benefit greatly from Moringa, it's a superfood due to its high content of vitamins, phytochemicals, and minerals best for mothers' needs —  this includes vitamins A, C, & E, folic, calcium, magnesium, and iron.
Moreover taking moringa in the morning helps prepare the body as it improves your energy and nutrition levels all high throughout the day. This is why having moringa for breakfast will surely benefit every moms out there. 
So, are you ready to cook for every special women around you this Mother's Day? You might want to try these homemade brunch recipes. 
Egg Moringa frittata
Let every mom around you start their day on a natural high with this nutrient-rich egg-moringa frittata recipe. It's not just delicious, but also antioxidant-rich breakfast due to the goodness of moringa. 

Ingredients
6-8 eggs

1 tsp pepper

1/2 tsp salt

2 Tbsp. olive oil

1/2 cup chopped onion

2 Tbsp. minced garlic.

1/2 cup milk

1/2 cup chopped green bell pepper

1/2 cup chopped tomato

1 tsp Moringa powder
Instructions
Beat the eggs in a large bowl. Then add the milk, moringa powder, pepper, and salt. 

In a heated pan, sauté in olive oil the onion, garlic, tomato, and bell pepper until soft.

Add the egg mixture. Cook on low heat for 3-5 minutes. 

Garnish with parsley

Serve and enjoy!
Broccoli, Moringa, & Cheese Waffles
What a great pair! Broccoli and Moringa are packed with nutrients which may help enhance our health in a numerous ways.
Ingredients
2 cups finely chopped broccoli

1 large egg

1 ½ cups whole-wheat flour

honey

2 teaspoons baking powder

¼ teaspoon salt

¼ teaspoon baking soda

1 ½ cups almond or low fat milk 

2 tablespoons olive oil

moringa powder 

1 cup diced cheese
Instructions
Boil water in a large saucepan,  add broccoli and cook for 3 to 5 minutes, until it turns light green. Avoid overcooking it.  Drain and set aside until cool. 

Preheat waffle iron to medium-high.

Mix flour, sugar, baking soda, baking powder, salt and moringa powder in a large bowl.

Whisk egg, almond milk and olive oil another bowl. Mix together the dry mixture and wet mixture.

Mashed the broccoli and cheese into the batter. Let stand for 10 minutes.

Spray cooking oil in the waffle iron and pour in half cup batter. Cook for 3 to 4 minutes, until it turns light brown.

  Repeat with the remaining batter and serve!
Blueberry & Moringa Overnight Oats 
Level up this simple overnight oats with a healthier twist which you can simply prepare in just few minutes. Moreover, moringa and oats are high in nutrients which is best for all the mothers to consume. 
Ingredients
1/2 Cup Rolled Oats
honey or maple syrup
1 tsp Moringa powder
32 g blueberries, fresh or frozen
1/4 tsp cinnamon
sliced almond / walnuts / hazel nuts
1/4 Tsp Cinnamon
almond milk or low fat yogurt
For toppings: 
Instructions
1. Mix all the ingredients together. Make sure the ingredients are totally soaked. 
2. 
Cover the bowl and refrigerate overnight until the oats get soft. 
3. 
Top with the remaining sliced nuts, chia seeds, blueberries and drizzle of honey or other toppings of your choice before serving.
Love + miracles,