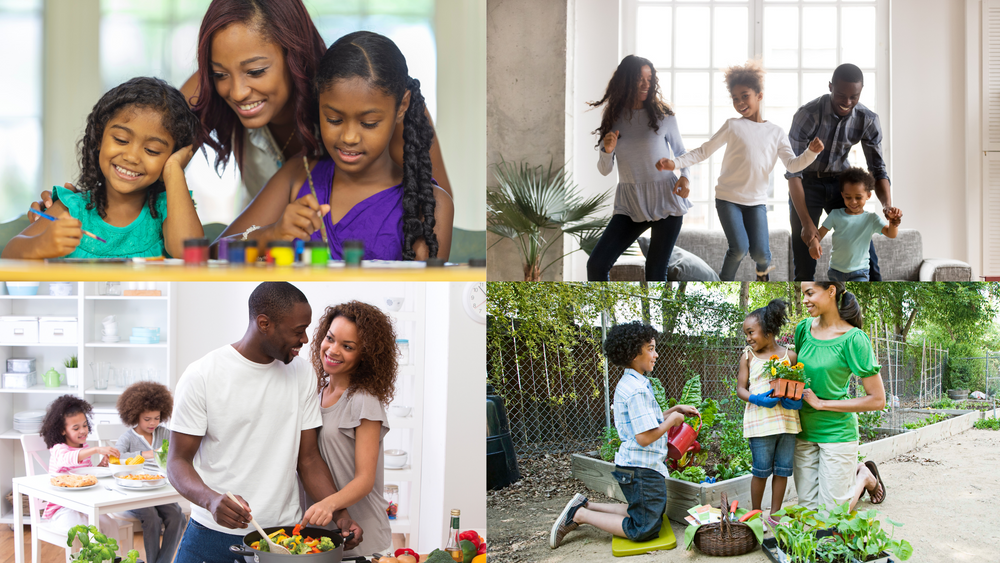 Family Activity Ideas while stuck At home
By shop Miracle in the Green Admin |
Let's face it mummy's there is no playbook for times like this. Parenting during a pandemic is hard. Give yourself a break and be patient.We wanted to shield our little ones from much of the more serious news about the pandemic. They are aware of this abrupt change through the change of their routines and activities. It can often be hard for kids to understand and cope with these limitations and changes. Despite these challenges, it can also be a great time to discover ways and ideas for our children's growth.Make your time worthwhile while with these family activity ideas while stuck at home.
Redecorate your kid's room
Redecorating your kids room will excite your kids specially if you will include them in thinking of new decor ideas, room color and even during executing the job. Kids love painting, they will really enjoy it and it will be a great family bonding experience. It is also the best time to declutter and sell or donate unused clothes, shoes and toys. That way you are also teaching your children charity and generosity. 
Artwork and Music
With or without pandemic restrictions, artwork and music has been a great family bonding activity. Kids love crafts and do doodles.You will perhaps discover new abilities and that your kids are more talented than you think. You might as well find out what your child's favorite color is, his or her favorite song or dance. Nothing can be more uplifting than parents total support and encouragement for their child.
Call or Video Chat with friends and relatives
Once in a while, we need to see other people without going outside. There comes technology. You and your kids will start missing your best friends, friends from school, work, cousins, grandparents, uncles and aunties and even neighbors. With all these restrictions and social distancing, keeping in touch with our loved ones online will make a difference to both you and the one you are calling. Encourage family members to read books or play while in video chat. There are lots of activities you can do with them while connected online.
Act of Kindness 
Do you have a family member or a neighbor who is a health worker? Do you often get your stuff delivered because of the restrictions? Encourage the whole family to decorate your windows with thank you messages and support messages to our frontliners. Kids can definitely write and draw their messages. They can use washable markers and clings for their kind and thank you messages for the delivery people. It will definitely put a smile on their faces. This way you also taught your children to always be kind in all circumstances.
Gardening
Make use of your backyard! This would be the best time to clean your backyard or front yard with the help of the whole family and grow fruit bearing plants. Kids can also play while planting flower plants and vegetables. If you don't have enough space for gardening, recreate pots using recycled materials. Another great family bonding activity close to nature.
Kitchen Bonding
You can never go wrong with cooking and baking with the kids. Evolving them with this activity might as well make you discover their talents in taste, decorating cakes and cookies, and even teach them how to prepare simple meals. Let me share with you a healthy and yummy recipe that your family would love. Have you tried Moringa-Avocado Ice Cream? 

Ingredients :

2 Avocados
3 tablespoons Moringa Powder
Fresh Mint Leaves
A couple tablespoon of lemon juice
1 canned coconut milk
1 ripe banana
Maple syrup to sweeten
Instructions :Blend all the ingredients together, it should look like a super thick vibrant green smoothie, and that's exactly what we're looking for!
When the mixture is smooth and consistent, transfer it from the blender to a loaf pan, and freeze for 4 hours. And then you've got homemade Moringa-Avocado ice cream! The waiting part is the hard part. But patience is a virtue, I'm sure your family will love it. Aside from being delicious, it is also super healthy. You can also make them popsicles! 
I also want to share other easy Moringa Recipes that your family will love to make and eat.
Moringa Coconut Banana Bread Minis
The benefits of Moringa powder can help make a healthy impact on your day-to-day life by boosting your intake of antioxidants, vitamin A, vitamin C, vitamin B2, vitamin b3, iron, amino acids, calcium, and magnesium. Moringa is seen as the Miracle Plant because it yields such a high vitamin-rich content that no other plant or vegetable can produce in one serving. It can help improve more than just your diet.
I've read this mantra saying that no matter how eternal it feels, it won't last forever. I still have my waves of panic about how much worse this could get, but every thought to focus on any positive aspect. It is nice not to rush out the door every morning. If we model this, our kids learn to do it too. 
Love + miracles,