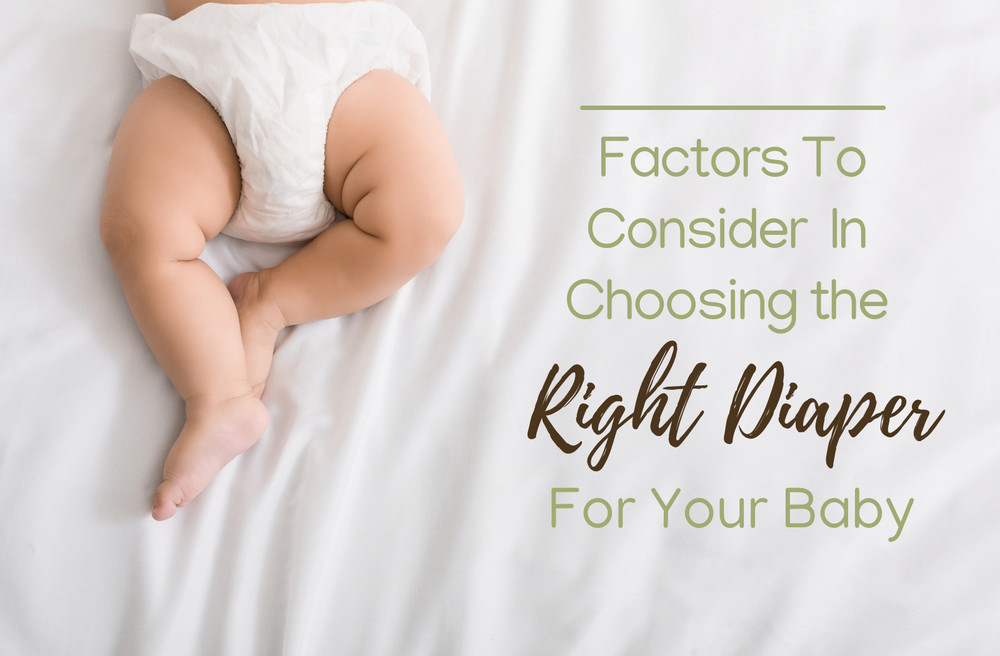 Baby poops and pees several times in a day. That's why it's important to select the right diaper for babies.
Though making a decision as to what diapers you'll buy as a first-time parent or even if you're already a mom of three, is surely hard. It may seem like an easy task, but in reality, it's not.
There's just a lot of things you need to take into account . So, what are the things we need to consider in choosing the right diaper for babies?
1. Softness and Comfortability
When it comes to fragility, baby's skin is always on the top list. Your little one's skin is so delicate and sensitive. And mind you, baby's bottom is actually one of the most sensitive areas of baby's skin. This is why it's a must to choose a soft diaper to avoid skin rashes and skin infections.
It's also important to buy diapers that have a good level of comfortability. Most moms suggest choosing diapers that are stretchable around your baby's legs so they can stretch their legs freely. This will not just make your baby comfortable but also will help prevent leaks.
2. Size  
Size and fitting matters when it comes to your baby's diapers. It's important to know what size fits your baby. Good thing that diapers nowadays come in different sizes.
Keep a note of your baby's weight so you can choose which one fits your little one the most. Here's a guide to diaper sizes, though not all brands offer the same size.
For Newborn

Size 1

Size 2

Size 3

Size 4

Size 5

Size 6

Size 7
Don't go for diapers that are too fit and too tight as it may leave marks on your little ones skin, will increase leakage and blowouts, and will even put them in a very uncomfortable situation.
3. Good Absorbent
Good absorbent diapers can help prevent pees and poops from leaking out. When the diaper is leaky and not so absorbent, your little one's skin will suffer as it will lead to rashes and skin irritation.
Remember how often your baby poops and pees? This is why you always choose highly absorbent diapers.
4. Go for breathable material
Aside from good size and absorbency, choosing a breathable diaper is also another thing to consider. If you want to achieve baby's healthier skin and comfortability, choosing a breathable diaper material is essential.
And not all diapers are breathable and none have the same diaper materials. So, it's important to go for diapers that are manufactured using healthy and safe materials — without paraben, natural, petroleum free, dye-free, as well as chlorine-free diapers. Be on the look out for chemical products that are harmful to your baby's skin and health.
5. Budget
Your little one uses tons of diapers. And if you're going to calculate the cost on a yearly basis, you'll be surprised as to how much it costs. Of course, we don't want to buy products that have very low quality. But 
budget
 is something we need to take into 
account
 too.
But don't worry, there are a lot of good quality products that won't rip your wallet off.
Love + miracles,