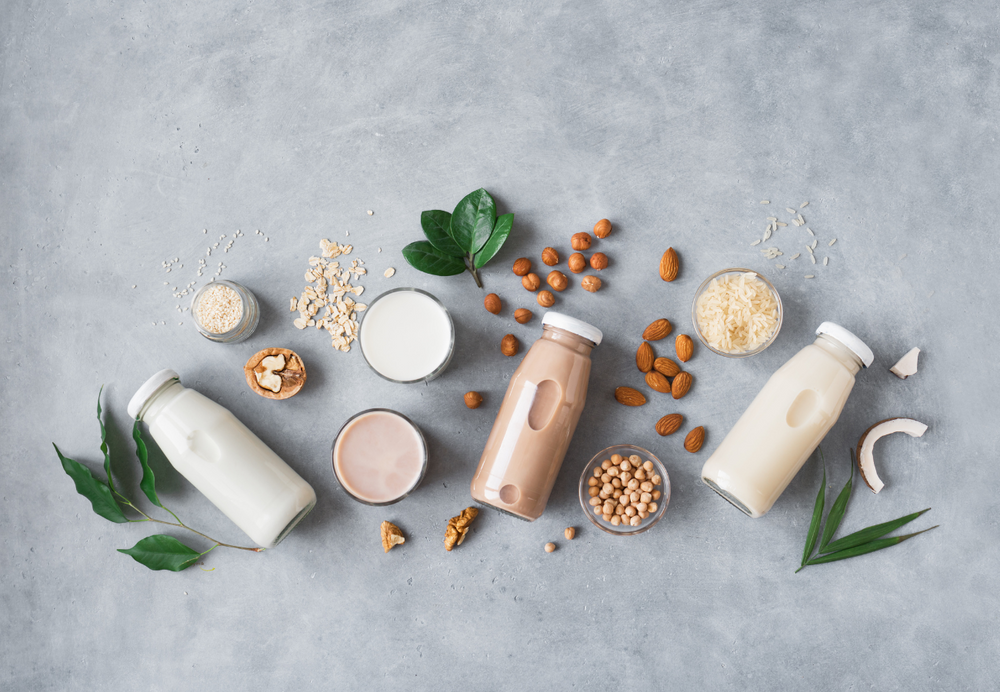 If you're a vegan, lactose-intolerant, or want to avoid weight gain, non-dairy milk is best for you.

Nowadays, it's easy to spot plant-based milk in grocery stores. Aside from cow's or goat's milk, there are plenty of choices to choose from. And the good thing is that it's healthier and more nutritious.

Plant-based milk varies from nuts, plants, or seeds. Trying non-dairy milk is a good move to cut down on your calorie intake as it's less in calories, fat, and carbohydrates.

Moreover, if you're worried that plant-based milk doesn't contain calcium, then you're worrying for nothing. In fact, some of these milk substitutes have more calcium than cow's milk. Pea, macadamia, almond, and flaxseed milk actually contain more calcium. However, make sure to check its nutritional facts before checking out. This will ensure you're getting the best and healthiest product you need.

Ready to shake up your health, diet, and milk game? Let's dive into these 7 healthy plant-based milk.
Oat milk
Yes, oat milk is one of the healthiest and best milk alternatives for diet, made from either whole oats or steel-cut oats. Though oat milk has high carbohydrates, it's a soluble fiber, which means it won't harm your health and will make you feel full longer. In addition to that, since oat is a soluble fiber, it may lower blood cholesterol levels as well as glucose levels.
Calories 130
Carbs (G) 24
Sugars (G) 5
Protein (G) 4
Calcium (MG) DV 35 %
Potassium (MG) 95

Almond Milk
Almond milk has lower calories and carbohydrates than oat milk which makes it perfect for your diet. It also has a rich amount of Vitamin E which can help lower your risk of getting chronic diseases like heart diseases, stroke, or cancer.

It's also an excellent source of calcium and phosphorus compared to cow's milk. However, almond milk may not give you the best amount of protein, unlike other plant-based milk.


Calories 30
Carbs (G) 1
Sugars (G) 0
Protein (G) 1
Calcium (MG) DV 45 %
Potassium (MG) 160
Coconut milk
Love adding coconut milk to your savory dishes to make them taste like Asian cuisine? Well, coconut milk serves more than that. This milk alternative is so healthy that you'll be amazed at how many benefits you'll gain from it.

This creamy milk from coconut may help with weight loss and can lower cholesterol once consume in moderate amounts.


Calories 45
Carbs (G) 1
Sugars (G) 7
Protein (G) 0
Calcium (MG) DV 45 %
Potassium (MG) 40
Pea milk
Unlike other plant-based milk, pea milk is rich in protein and has a good amount of potassium as well. It's also abundant in iron.

In fact, pea milk has been also linked to various health benefits as it may help promote weight loss and improves bone health due to its calcium content.


Calories 70
Carbs (G) 0
Sugars (G) 0
Protein (G) 8
Calcium (MG) DV 45 %
Potassium (MG) 450
Soy milk
Not a fan of soy? It's time to start liking it as it's one of the healthiest milk replacements if you're serious about your diet. Just as tofu is one of the healthiest food in the world, this soy milk also has plenty of health benefits.
Soy milk is rich in Vitamin B, protein which is needed for stronger muscles, omega-3 fatty acids, improve heart health, and has high nutritional value.


Calories 80
Carbs (G) 4
Sugars (G) 1
Protein (G) 7
Calcium (MG) DV 45 %
Potassium (MG) 287
Potato milk
Potato milk is garnering attention due to its uniqueness. Though you might not like the taste of potato for milk, it has some surprising health benefits.

Aside from its gluten and lactose-free, it's safe for those who have allergies to other milk substitutes. Surprisingly, it's rich in riboflavin, folic acid, and vitamin B12.


Calories 39
Carbs (G) 1.3
Sodium (G) 0.11
Protein (G) 1.3
Calcium (MG) DV 120
Rice milk
Rice milk is another milk alternative that is dairy-free, lactose-free, and vegan. Though it may not have the same calcium content or protein compared to cow's milk, this plant-based milk is very low in calories which makes it really good for weight loss.
Calories 10
Carbs (G) 23
Sugars (G) 10
Protein (G) 1
Calcium (MG) DV 2
Potassium (MG) 35
Regardless of your reason to switch to plant-based milk, one thing is clear: these plant-based milk are good for your health.
Love + miracles,