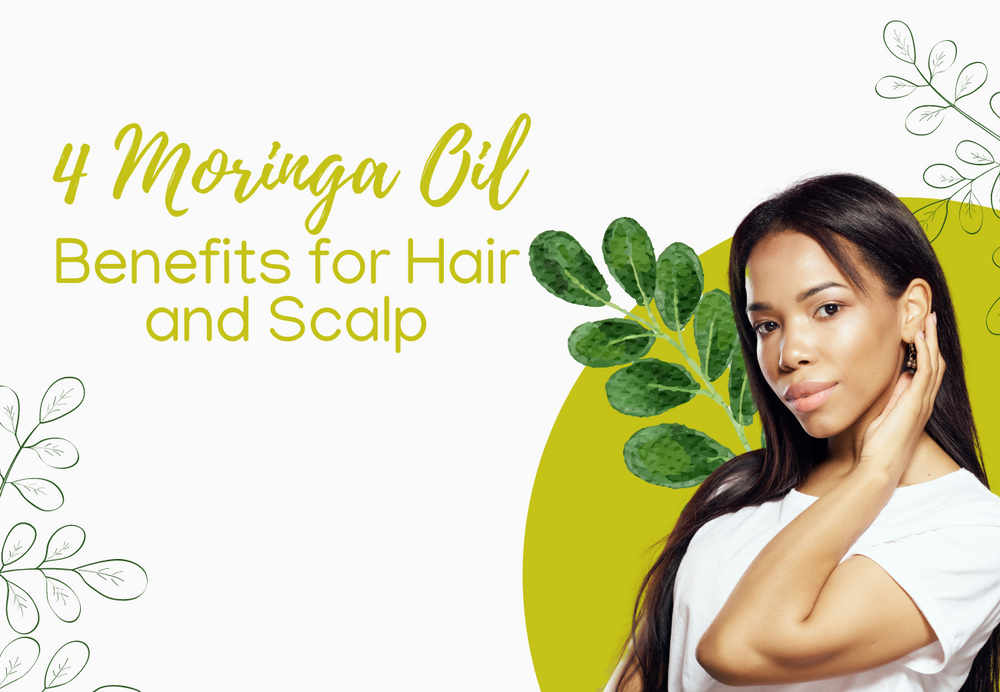 Moringa, also known as "Miracle Tree" and "Wonder herb", is now gaining popularity due to it's multiple health benefits. But, the goodness of Moringa doesn't ends there  — it's also skincare and haircare staple. 

Moringa is also an amazing natural ingredient in beauty products for its many benefits. Moringa is best nature's ingredient due to it's high amount of Vitamin C, D, E, A, magnesium, amino acids, etc. making it as an amazing natural oil.
With it's rich nutrient content, you'll never go wrong using it. So, if you have yet to try using Moringa Oil for your skincare and haircare routine, here are few Moringa Oil benefits for your hair. There is a separate blog post on how Moringa can help you achieve better skin. For this blog post, we'll be focusing on haircare. 
1. Helps Regrow Hair
Vitamin A and zinc are essential nutrients our hair needs for hair growth. And Moringa are known to be abundant with these needed nutrients especially zinc. Zinc plays a crucial role in the growth of our hair as it helps speed up the recovery process of damaged hair follicles. 
And a healthy levels of  zinc maintains our oil glands in the scalp well-nourished. This even prevents us from extreme hair loss. 
Moringa won't just help with hair regrowth, but it will also enable hair cells to grow stronger and healthier because of the vitamins B6, Vitamin A, folic acid, and biotin compound. 
2. Prevents Dryness and Dandruff
Moringa oil primary function is to moisturizes and nourishes the scalp from within leading to a more stronger hair. As it soothes your scalp, it can help dryness, dandruff, and other hair problems at bay. It can also help heal minor irritations due to it's high nutrients, fatty acids, and anti-inflammatory content. 
3. Protects hair from damage
Smooth out split ends with and prevent bad hair day with the use of Moringa Oil. More than it's emollient property, this miracle herb can also protect your hair from chemical and heat-induced damages. 
Moringa is rich in Vitamin A  which is the key in making our hair cells stronger,  and Vitamin E, a popular nutrient that assist in the repairing process of the damaged hair. Plus, it also has a high amount of Vitamin C, known to fight free radicals which leads to hair breakage and weakness.
4. Makes hair shiny and Luscious 
There's no doubt that Moringa Oil is vitamin-rich making your hair and scalp totally nourished. It doesn't end there though. You can also achieve that smooth, shiny, plump, and bouncy hair you've been dreaming of with Moringa. 
This is because of it's rich behenic acid content —  a well-known ingredient found in conditioners. This Miracle skincare and haircare oil also contains  phytonutrients —  key in making your hair smoother, shinier, full of volume, and more luscious  looking.
Bring back the beauty of your crowning glory without breaking the bank. This Moringa Oil can be use in multiple purpose — hair, skin, scalp, and nails. 
Read the benefits of Moringa oil for skincare here.
Ready to experience the goodness of Moringa Oil for your skin and hair? Check our Revitalizing Moringa Oil here. 
Love + miracles,