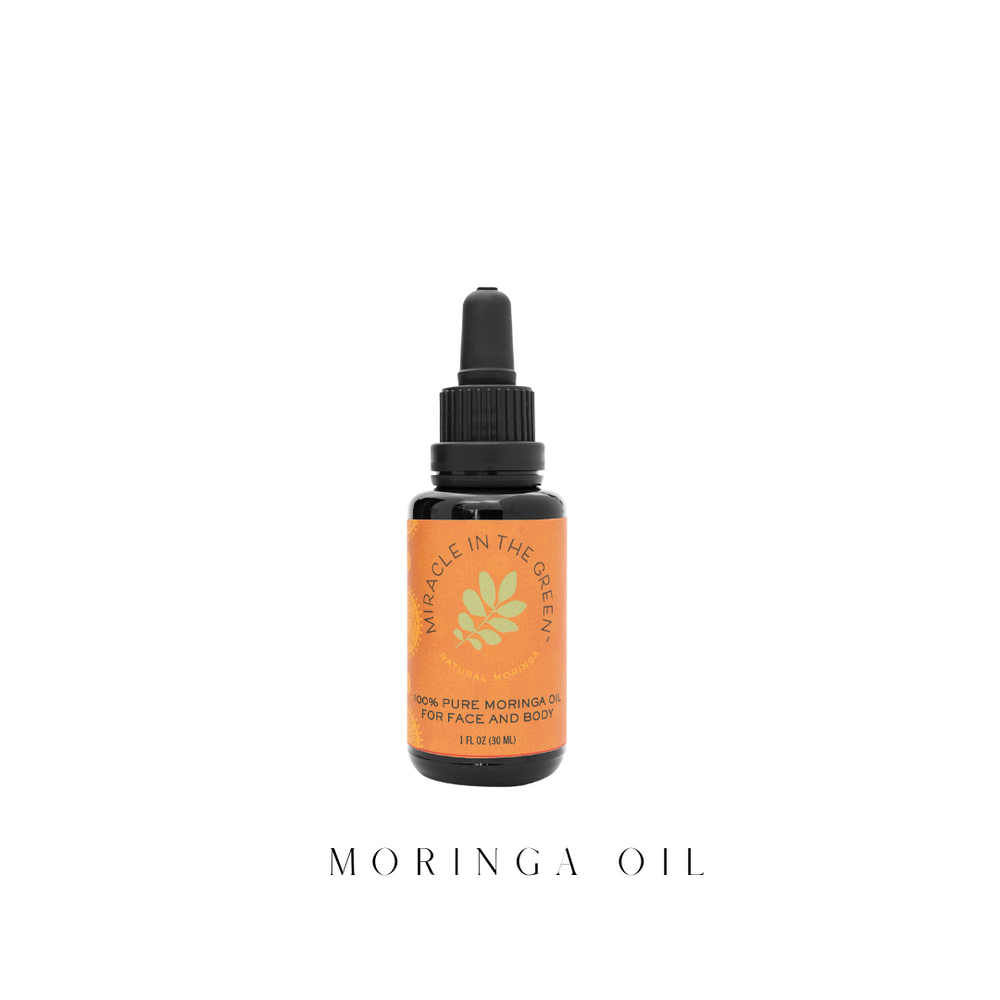 4 Benefits of Moringa Oil
By shop Miracle in the Green Admin |
A trip down the beauty aisle is proof Moringa oil might just be the new coconut oil. The natural goodness of Moringa oil dates back thousands of years ago documented in Roman and Egyptian cultures and used for beauty. Now, Moringa oil is making its way into skin cleansers, moisturizers and even make-up. Its unparalleled nutritional profile slows aging of skin cells and combats the damage brought on by free radicals keeping fine lines and blemishes at bay. Moringa oil comes from the Moringa Oleifera tree also called the 'Horseradish' tree. The tree is said to prevent at least 300 hundred diseases and every part of the tree is edible except for the roots which also has medicinal benefits. It's no surprise the Moringa tree is also known as the 'Miracle' tree.
4 Benefits of Moringa Oil
Anti-aging
Moringa oil's anti-aging properties fight skin tissue damage which lead to the formation of wrinkles. The Sulphur in Moringa makes it also a cell builder repairing the skin as it moisturizes. Cytokinins is a plant hormone found in Moringa oil. This hormone prevents the destruction of skin tissues which occurs with aging. Moringa oil is also loaded with Vitamin C which triggers the skin's production of collagen and elastin resulting in youthful skin. Dermatologists describe Moringa oil as the new wonder oil because it is the go to resource for all you would normally get in multiple jars of skincare – skin moisturizing, dark spots reducing, collagen building and anti-aging benefits. Moringa oil has it all.
Fights wrinkles, acne and dark spots
Its high content of Vitamin A (where retinol comes from) causes speedy cell regeneration for a brighter skin less prone to breakouts. This regeneration helps minimize pigmentation, dark spots, and acne scars. The nutrient richness of Moringa oil ensures wrinkle-free skin. Its quick absorption ability ensures the skin is fully hydrated. Did we mention Moringa oil is also antiseptic-rich! – it targets inflammation and soothes acne prone skin.
Amazing Make-up Primer
Moringa oil can also serve as a make-up primer blurring appearance of skin imperfections keeping make-up fresh, instant dewy, brightens skin to give an illuminated glow. Use Moringa oil as you would any make-up primer. Gently patting moringa oil into your face helps with absorption and ensures a flawless look. Ify Nwobi, a 'green beauty' specialist and founder of the beauty and wellness brand, Miracle In The Green refers to Moringa oil as her 'ride or die make-up primer.' She says, 'it may sound counter-intuitive to use oil as a primer, but I have found that it keeps my make-up on for longer and it gives my face a beautiful dewy glow. Plus, its more affordable in the long run."
Moisturizes scalp
Because Moringa oil is a dry oil, it is easily absorbed by the skin without leaving it greasy and so makes it the perfect moisturizer for both the skin and the scalp. A few drops go a long way. Moringa oil contains oleic acid, the same fatty acid found in olive oil and so is great for growing longer, thicker hair as it is chock-full of nutrients that stimulate growth. The zinc contained in Moringa oil will relieve baby of cradle cap as does the Mummy's Miracle Moringa Baby Shampoo and Wash which is excellent for all skin types especially sensitive skin. Antioxidants in Moringa oil will help with keratin production essential for health hair growth. Moringa oil is beneficial in shampoos and for pressed hair prevents hair from heat damage. So, Moringa oil fends off scalp irritation, disinfects, moisturizes and fosters the growth of healthy, full hair.
Love + miracles,