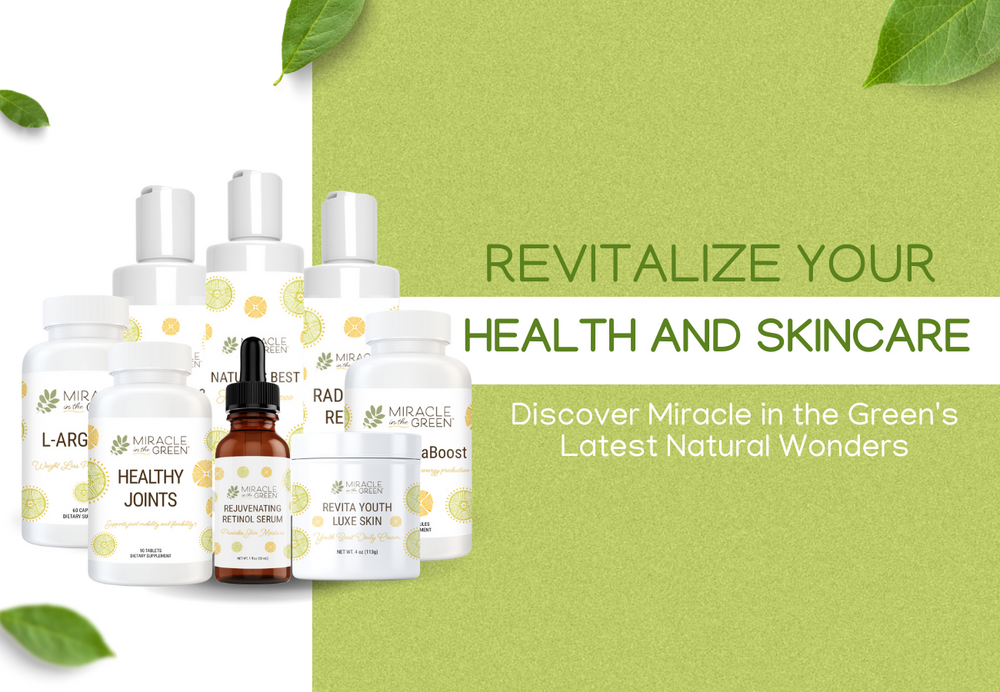 Brace yourselves for a transformational experience as we are soon to launch our newest health and natural wonders. At Miracle in the Green, we're on a mission to redefine the way you think about health and beauty, and our latest offerings are at the forefront of this endeavor.

Founded by Ify Nwobi, a cancer survivor, a mom, and a visionary dedicated to holistic well-being, Miracle in the Green is more than just a brand; it's a testament to the incredible benefits of holistic products.
Ify embarked on this journey after experiencing a personal transformation through healthy living. The unwavering commitment to create and launch products that promote health and enhance natural beauty is at the heart of everything we do.
Discover Our Newest Gems
Here's a sneak peek to our new lineup of products  that will take your concept of health and beauty to a whole new level.
CoQ10 Ultraboost Dietary Supplement Liquid Caps
Say goodbye to fatigue and embrace boundless energy! Our CoQ10 ultra boost capsules, packed with 100 mg of CoQ10 and Ubiquinone, are your daily ticket to a healthy heart, maintained blood pressure, and enhanced cellular energy production. 
Healthy Joints Dietary Supplement
Give your joints the love and care they truly deserve. Our joint-support supplement, enriched with Glucosamine and Green Lipped Mussel, not only relieves discomfort but also promotes healthy joint mobility, flexibility, and natural function. Say hello to a more active, pain-free life.
L-ARGISLIM
Get ready to ignite your fitness journey with L-ARGISLIM. It's not just about weight loss; it's about redefining your health goals and supporting your immune system. What's even better? There's no caffeine, so you can enjoy restful sleep while your body works on transforming itself.
Introducing Our Natural Skincare Collection
Nature's Best Conditioner 
Pamper your hair with the care it deserves. Revel in the luxurious experience of silky-smooth locks, the way nature intended. Our paraben-free, sulfate-free, gluten-free, and hypoallergenic formula ensures your hair gets nothing but the best.
Revita Youth Luxe Skin
Turn back the hands of time with our luxurious Revita Youth Luxe Skin range. This lightweight cream works wonders by promoting collagen production, visibly reducing wrinkles and dark spots, and giving your skin a youthful glow that's hard to miss.
Rejuvenating Retinol Serum
Discover the secret to radiant skin. Our Rejuvenating Retinol Serum is here to work its magic on fine lines and wrinkles, leaving your skin looking fresh and revitalized. It's time to elevate your skincare routine.
Soothe & Glow Aloe Vera Facial Wash
Nourish your skin with the gentle touch of Aloe Vera. Unveil a fresh, dewy complexion every day with our non-irritating, hypoallergenic formula. Say goodbye to harsh cleansers that strip away your skin's natural oils.
Why Choose Miracle in the Green?
Our products aren't just natural; they're a testament to holistic wellness. Crafted with the utmost care and free from harmful chemicals, they're designed to empower you on your journey to health and beauty. But there's something more profound at work here.

Every purchase that you will make contributes to Project Little Miracles, our commitment to uplifting women worldwide through access to education, advocacy programs, and services. Your choice doesn't just transform your life; it transforms the lives of women around the globe.
Ready to Transform Lives?
Don't let this opportunity slip away. Revitalize your health and rejuvenate your beauty regimen with these incredible additions to our Moringa-powered lineup. And remember, your purchase isn't just a step towards a healthier you; it's a step towards empowering women through Project Little Miracles.

Get ready for a holistic revolution. Prepare to embark on a transformational journey like no other. Your radiant health and timeless beauty await. 

Stay tuned for our upcoming launch!
Love + miracles,