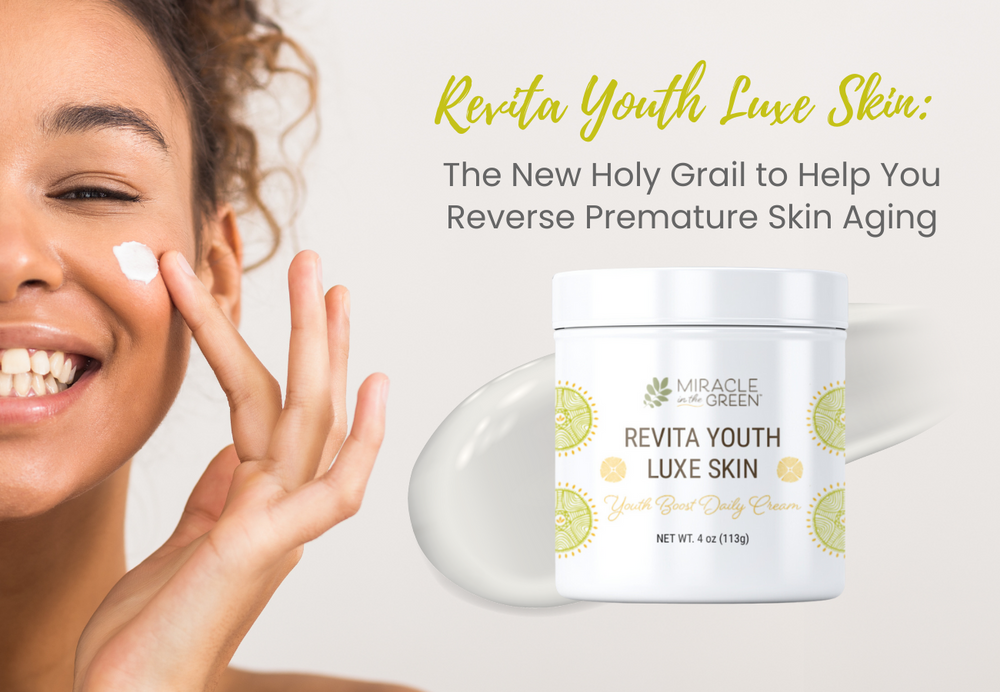 Our New Holy Grail to Help You Reverse Premature Skin Aging
By Angela Ilagan |
In terms of skin aging, aside from external factors, we may unconsciously bring more harm despite our good intentions.

Skin aging is an inevitable part of life, leading to changes that manifest in the form of fine lines, wrinkles, age spots, and a loss of firmness. Although we can't entirely halt this process, we can certainly slow it down with the right skincare or inadvertently accelerate skin aging if we use the wrong products.

Unfortunately, we abuse our skin by using too many products, not giving it enough attention, or using the wrong skincare, even if it's meant to be anti-aging. Any of these reasons can wreak havoc on our skin, leading to premature aging or speeding up the aging process.

That is why the right anti-aging skincare products are necessarily important to prevent premature aging.

The truth is, there are so many anti-aging skincare products on the market. A lot. Many claim to reduce fine lines. We often think that the more expensive the product, the better it is for the skin. Yet, it's a myth. According to some skin specialists, the cost of the product does not necessarily correlate with its effectiveness. It's about finding the right balance that is safe and contains great ingredients.
Introducing Revita Youth Luxe Skin
Revita Youth Luxe Skin, a cherished member of the Miracle in the Green family, has been thoughtfully formulated with your anti-aging needs in mind. Packed with natural ingredients and fortified by scientific research, this cream harmonizes perfectly with our Youth Boost Daily Cream to offer a comprehensive anti-aging solution. Together, they create a potent regimen that empowers you to present your most youthful self every day. The results will be unmistakable, and you'll question why you didn't embrace this transformative routine earlier.

When it comes to anti-aging, our Youth Boost Daily Cream isn't just a recommendation; it's a transformational experience. Prepare to be enchanted by the magic of a youthful transformation with this elixir, paired with Miracle in the Green's Revita Youth Luxe Skin. Your journey towards ageless beauty commences right here, welcoming a more radiant and youthful you.
Benefits of Youth Boost Daily Cream:
1. Help reduce the appearance of wrinkles
As we age, the skin's natural collagen and elastin production decline, leading to the formation of wrinkles. Our Youth Boost Daily Cream is expertly formulated with ingredients like hyaluronic acid, retinol, and antioxidants from Vitamin C and E to stimulate collagen production, effectively reducing the appearance of fine lines and wrinkles.
2.Hydration Redefined
Dry, dehydrated skin can accentuate the signs of aging. This daily cream features moisture-locking components, including hyaluronic acid, ensuring your skin remains plump, hydrated, and radiantly youthful throughout the day.
3. Fights Dark Spots
Age spots and hyperpigmentation can add years to your appearance. Our Youth Boost Daily Cream contains powerful skin-brightening agents, including Vitamin C, that effectively diminish dark spots, leaving you with a more youthful and evenly toned complexion.
4. Enhances Skin Elasticity
 Skin's elasticity naturally decreases as we age.  The daily cream, enriched with retinol, works diligently to improve skin firmness and elasticity, ultimately offering a more youthful and rejuvenated appearance.
5. Gives You a Youthful Glow
Dull skin can make you appear older than you feel. The cream revitalizes your skin, revealing a youthful glow that turns back the hands of time.

Just because we're aging doesn't mean we can't make our skin look younger. By using the proper skincare, maintaining healthy eating habits, and adopting a proper lifestyle, we can help reduce the effects of aging on our skin.

Ready to try Miracle in the Green Revita Youth Luxe Skin? Get it for 15% off until October 31. Check it out here.
Love + miracles,