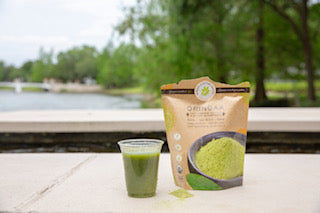 Miracle in the Green Launches Moringa Powder to Optimize Family Nutrition
Miracle in the Green Launches Moringa Powder to Optimize Family Nutrition
Winter Springs, Florida - October 21, 2016 - Miracle in the Green, manufacturers of all-natural skincare and wellness products, have launched their Anti-Aging 100% Moringa Leaf Powder, which provides the whole family with optimum nutrition. Loaded with proteins and fiber to aid the development of lean muscles, and formulated to boost energy levels, Moringa Leaf Powder is added to drinks and snacks during the day. It can help to alleviate the symptoms of colds and allergies, detoxifies the body, and helps to maintain overall health. But what makes Moringa Powder different from similar products is the superior quality of the moringa oil used in its production.
The African moringa is packed with over 90 essential ingredients, including 20+ types of amino acids, 40+ antioxidants, 35+ anti-inflammatory compounds, key vitamins, minerals, protein, omega 3, 6, and 9 oils, and phytonutrients. However, many sellers dry moringa in the sun. This makes it become toxic. Miracle in the Green has taken a different approach to the harvesting of the moringa oil for their products since they proudly put sustainability and wellbeing towards the top of the list of their priorities.
"Always ask how your moringa is grown," advises Ify Chuke-Nwobi, JD, founder of Miracle in the Green. "The moringa we use is sourced from our own small farms in Africa, from where the moringa originates. We use moringa which is grown organically in its native environment and soil. Further, our Morning Oleifera is hand-harvested and has been carefully shade-dried at the ideal low temperature to preserve its precious nutrients - and quickly packaged to maintain peak freshness."
The result, says Miracle in the Green, is the purest, freshest, greenest, and most natural moringa seed oil, which is remarkably rich in nutrients. Their Moringa Leaf Powder is made in small batches, following strict health and safety guidelines, and tested for purity and quality before it is dispatched.
Between one and six scoops of Anti-Aging 100% Moringa Leaf Powder are added to drinks or snacks a day, or it can be brewed as a tea. It contains no fillers, no coloring, and is USDA certified. Since Moringa Leaf Powder is also beneficial for skin and aids in achieving a glowing complexion, it can also be used to make a DIY face mask. Moringa Leaf Powder is available for purchase from Miracle in the Green's website!
Love + miracles,